gousset de la collection Altiplano
Piaget ressuscite la montre gousset à tourbillon dans une esthétique carrée très contemporaine et familière à la marque, celle de la collection Altiplano.
Le boîtier en or blanc de 40 mm de côté abrite le mouvement mécanique à remontage manuel Piaget 600P, le tourbillon de forme le plus plat du monde avec ses 3,5 mm d'épaisseur. Reflet de la maîtrise de la Manufacture, la cage de ce tourbillon – visible grâce au cadran ajouré à 9h – est composée de 42 pièces et ne pèse que 0,2 gramme.
A l'instar de toutes les pièces historiques de Piaget, le fond du boîtier est gravé du blason de la marque.
Pour varier les plaisirs au porté, cette montre raffinée et élégante est livrée avec une chaînette en or blanc ainsi qu'avec un cordon en cuir.
Piaget is returning to its roots through the complication that is most emblematic of the watchmaking art: the tourbillon regulator.
Well before being offered in wristwatch form, this horological complication – primarily designed to compensate for the effects of gravity – had been devised two centuries ago for pocket-watches. Consistently eager to investigate new ways of wearing watches, Piaget now revives the tourbillon pocket-watch, interpreted in a highly contemporary square-shaped form characteristic of the brand, that of the Altiplano collection.
The 40 mm-sided white gold case houses the Piaget mechanical hand-wound Calibre 600P, the world's thinnest tourbillon movement at just 3.5 mm thick.
Admirably reflecting the mastery inherent to the Manufacture, the carriage of this tourbillon – visible through a dial opening at 9 o'clock – is made up of 42 parts and weighs a mere 0.2 grams. Like all vintage Piaget models, the case-back is engraved with the brand's coat-of-arms.
To provide a variety of pleasures in the manner of wearing it, this refined and elegant watch comes with a white gold chain as well as a leather cordlet.
Un demi-siècle plus tard, la montre monnaie
Explorant volontiers et de tous temps les voies des nouveaux portés, Piaget a lancé en 1957 la montre monnaie à secret dont le boîtier était réalisé dans une pièce de 20 dollars en or.
Clin d'œil à l'histoire, la Manufacture de haute horlogerie Piaget renoue avec cette tradition et propose une série limitée de montres à secret réalisées à partir de véritables dollars et yuans en or 24 carats.
Travaillée selon des savoir-faire maîtrisés de longue date par Piaget, en partie évidée pour pouvoir enfermer un fin boîtier en or, la pièce s'ouvre sur simple pression selon le technique complexe propre à la montre à secret.
La pièce (dollar ou yuan) en or de 4,5 mm d'épaisseur abrite une montre en or dont l'épaisseur n'excède pas 3.6 mm. Au cœur de cette pièce d'exception, la réédition à l'identique du fameux Calibre 9P, le mouvement mécanique extra-plat à remontage manuel de 1957.
Cette série limitée de 10 pièces par monnaie est livrée avec un étui en cuir de la forme de la montre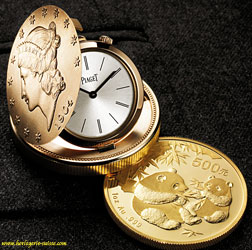 As keen as ever to explore new way of wearing time, Piaget launched the "secret" or case-spring coin watch featuring a case crafted from a 20-dollar gold coin in 1957.
Now, in a nod to its history, the Manufacture de Haute Horlogerie Piaget revives this tradition by offering a limited series of case-spring watches made from genuine 24-carat gold dollars and yuans. Crafted by means of the time-honoured skills that are part of Piaget's technical heritage, and partially hollowed so as to house a slender gold case, the coin opens when pressed according to the complex technique inherent to case-spring watches.
The 4.5 mm thick dollar or yuan coin encases a gold watch no more than 3.6 mm thick.
At the heart of this exceptional creation beats an identical re-edition of the famous Calibre 9P, the 1957 ultra-thin hand-wound movement.
Protocole XXL
Son boîtier en or blanc de taille généreuse (42 X 46,5 mm) joue subtilement de l'alternance des surfaces polies et satinées jusque dans les moindres détails, à l'image de ce fin rehaut poli sur le côté. A la fois sobre et raffiné, le cadran argenté présente sur l'extérieur du cadran un guilloché rayonnant .
De forme bombée, la glace saphir épouse parfaitement la courbure supérieure de la boîte. Au cœur de ce modèle de la nouvelle génération de la collection Protocole, le calibre 830P, mouvement mécanique à remontage manuel de 2,5 mm d'épaisseur.
Conçu, développé et produit par la Manufacture de haute horlogerie Piaget, le calibre 830P est doté d'un grand balancier à vis et d'un grand barillet pour une réserve de marche de 72 heures.
Its generously sized white gold case (42 x 46.5 mm) plays on the subtle alternation of polished and satin-brushed surfaces extending through to the subtlest details, such as the slender flange with its polished sides.
The understated yet refined silver-coloured dial is rimmed with a sunburst guilloché motif.. The cambered sapphire crystal perfectly follows the upper curve of the case. At the art of this model heralding the new generation of the Protocole collection lies Calibre 830P, a mechanical hand-wound movement measuring just 2.5 mm thick.
Designed, developed and produced by the Manufacture de Haute Horlogerie Piaget, Calibre 830P features a large balance with screws and a large barrel ensuring a 72-hour power reserve.
A Manufacture-made movement for the Piaget Polo Chronograph
Representing an eventful year in terms of developments introduced by the Manufacture de Haute Horlogerie Piaget, 2007 will also be marked by the milestone launch of a major innovation. The Piaget Polo Chronograph model houses the new Calibre 800P, the first mechanical chronograph movement entirely designed, developed and produced by the Manufacture de Haute Horlogerie Piaget.
In addition to the chronograph and flyback functions, this proprietary movement drives the hour, minute, small seconds at 6 o'clock, as well as the date display at 12 o'clock and a second time-zone indication.
Within the select circle of Manufacture-made chronograph movements, Calibre 800P stands out for its 24-hour dual time-zone display positioned at 9 o'clock in the place usually reserved for the standard chronograph hour counter. Featuring two barrels and a large balance with screws, this mechanical self-winding movement provides a 52-hour power reserve in activated chronograph mode.
Equipped with a column-wheel mechanism and vertical coupling-clutch, the 5.6 mm thick Calibre 800P is endowed with all the attributes of an Haute Horlogerie chronograph movement.
The signature Piaget finishing details – blued screws, circular "Côtes de Genève", calibre number – further enhance this exclusive status. The generously sized 43 mm-diameter case of the Piaget Polo Chronograph is water-resistant to 50 metres. This chronograph comes on a brown alligator leather strap complete with pink gold folding clasp, and is also available in a white gold version or a variation set with 34 diamonds adorning a white gold case.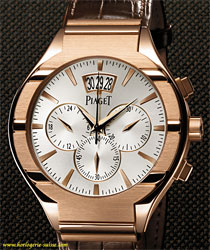 Année riche en développements pour la Manufacture de haute horlogerie Piaget, l'année 2007 restera gravée au sceau d'une innovation majeure. Le modèle Piaget Polo Chronographe abrite le nouveau calibre 880P, premier mouvement chronographe mécanique conçu, développé et produit par la Manufacture de haute horlogerie Piaget.
Outre les fonctions chronographe et flyback, ce mouvement maison présente les indications heures, minutes, petite seconde à 6h, date à 12h et second fuseau horaire. Dans le cercle très restreint des mouvements chronographe manufacture, le calibre 880P se distingue par son second fuseau horaire sur 24 heures placé à 9h, lequel remplace avantageusement le compteur d'heures ordinaire.
Doté de deux barillets et d'un grand balancier à vis, ce mouvement mécanique à remontage automatique offre 52 heures de réserve de marche en mode chronographe enclenché. Disposant d'une roue à colonnes et d'un embrayage vertical, le calibre 880P - de 5,6 mm d'épaisseur - présente tous les attributs d'un mouvement chronographe de haute horlogerie. Les finitions soignées caractéristiques de Piaget – vis bleuies, « Côtes de Genève » circulaires, numéro de calibre – rehaussent encore ce statut exclusif. Façonné dans l'or rose, le boîtier de la Piaget Polo Chronographe, étanche à 50 mètres, affiche un généreux diamètre de 43 mm.
Ce chronographe est proposé sur un bracelet alligator brun avec boucle déployante en or rose. Il est également disponible dans une version en or blanc ainsi que dans une version sertie de 34 diamants sur or blanc
Altiplano Double Jeu : another way to travel
Watchmaking encompasses many ways of dealing with the issue of dual time zones. In 2006, Piaget provided an original take on this useful function by presenting a limited edition of its Altiplano Double Jeu model.
This year, clothed in a new exterior and powered by new movements, the Altiplano Double Jeu watch is revealing an unprecedented new face within this collection. Two superimposed pink gold cases, each housing a mechanical hand-wound movement, are connected according to the principle of "secret" or case-spring watches. Simply pressing the push-piece at 3 o'clock opens the upper case to reveal the second display. The upper case houses the Calibre 838P mechanical hand-wound movement driving the hour and minute as well as small seconds at 10 o'clock; while the lower case beats to the cadence of Calibre 830P, a mechanical hand-wound movement indicating the hours and minutes. The crown at 2 o'clock serves to adjust and wind the upper movement, and another at 4 o'clock controls the lower movement.
While the back of the lower case is engraved with the brand's coat-of-arms – a prestigious seal reserved exclusively for Piaget's historically inspired models – that of the upper case is fitted with a sapphire crystal enabling one to admire the movement finishing details, such as the circular "Côtes de Genève" and blued screws reflecting the brand's established aesthetic codes.
Il existe une multitude de manières de traiter la problématique du double fuseau horaire en horlogerie. Piaget en a fait une démonstration originale en 2006 en présentant son modèle Altiplano Double Jeu proposé en édition limitée.
Deux boîtiers superposés en or rose abritant chacun un mouvement mécanique sont liés selon le principe de la montre à secret.
Par une simple pression sur le poussoir à 3h, le boîtier supérieur s'ouvre pour laisser apparaître le second affichage. Le boîtier supérieur abrite le mouvement mécanique à remontage manuel 838P avec fonctions heures, minutes et petite seconde à 10h ; le boîtier inférieur bat au rythme du mouvement mécanique manuel 830P indiquant les heures et les minutes.
La couronne à 2h permet le réglage et le remontage du mouvement supérieur, celle à 4h du mouvement inférieur. Si le fond du boîtier inférieur est gravé du blason de la marque – sceau prestigieux réservé aux seuls modèles Piaget d'inspiration historique - le boîtier supérieur est doté d'une glace saphir permettant d'admirer les éléments de décor du mouvement, à l'image des « Côtes de Genève » circulaires et des vis bleuies propres aux codes esthétiques de la marque.