Radiomir Black seal ceramic
Pour créer ce modèle, les techniciens de la manufacture de Neuchâtel ont utilisé une céramique de haute technologie traitée par un processus particulier de pression isostatique qui rehausse et améliore ses caractéristiques techniques.
Le fruit de ce type de travail est intéressant tant sur le plan de la qualité que sur le plan purement esthétique: la céramique utilisée est de l'oxyde de zirconium travaillé en poudre.
Le procédé de pression isostatique permet d'obtenir un matériau extrêmement dur jusqu'à 5 fois plus dur que l'acier 316L), très résistant aux températures et exceptionnellement solide (il ne s'érafle pas, ne s'abîme pas et ne s'érode pas même après une utilisation très prolongée).
En outre, la céramique présente un aspect plus homogène par rapport à l'autre méthode de fabrication utilisée, celle de fusion de la matière.
Mouvement Mécanique à remontage manuel Panerai OPXI, 16 1/2 lignes, 17 rubis, balancier monométallique en Glucydur", spiral Nivarox'cc, 21 600 alternances à l'heure, dispositif antichoc Incabloc"', réserve de marche de 56 heures, Certificat chronométrique COSC
Fonctions Heures, minutes, secondes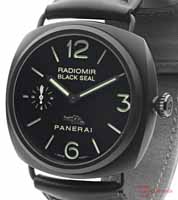 To create this model, Neuchatel Manufacture watchmakers has now devised a completely new process: a high-tech treatment of isostatic pressure which enhances and impraves its technical characteristics.
The result is interesting both fram the technical point of view and fram the purely aesthetic angle: the ceramic used is Zirconium Oxide and it is moulded from powder using a process of isostatic pressure (instead of being cast as is the normal practice). ln this way ail the positive features of this material are enhanced: its extreme durability (up to five times greater than 316L steel), its strong resistance to a wide range of temperatures, and the fact that wh en worn for long periods the watch does not become scratched, damaged or corraded. Also, ceramic formed in this way takes on a more homogenous appearance than that resulting from the which is the traditional method of casting the material.
Movement Hand-wound mechanical Panerai OPXI movement, 16 1/2 lignes, 17 jewels, monometallic Glucydur balance with Nivarox balance spring, 21,600 alternations/hour, Incabloc' anti-shock device, power reserve 56 hours, COSC Chronometer Certificate
Functions Hours, minutes, seconds
RADIOMIR 8 DAYS
Mouvement Mécanique à remontage manuel, calibres Panerai P.2002/3, entièrement manufacturés par Panerai,
13 3/4 lignes, épaisseur 6,6 mm, 21 rubis, balancier en Glucydur, 28 800 alternance/heure.
Amortisseur de choc KIF Parechoc.
Réserve de marche de 8 jours avec indicateur linéaire, trois barillets
Fonctions : Heures, minutes, secondes, date, indicateur de réserve de marche linéaire
Boîtier : Diamètre 45 mm, en acier poli AISI 316L avec anses à fil amovibles (brevetées).
Couronne de remontoir vissée personnalisée OP
Lunette en acier poli
Fond Saphir transparent
Cadran Noir avec chiffres arables et index luminescents. Dateur à 3 heures, petites secondes à 9 heures.
Indicateur de réserve de marche linéaire à 6 heures
Verre Saphir (corindon), 1,9 mm d'épaisseur.
Loupe sur le dateur à 3 heures.
Antireflet
Étanchéité 100 mètres
Bracelet Bracelet en alligator et boucle en acier poli grand format personnalisés PANERAI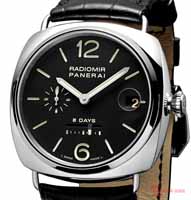 Movement Hand-wound mechanical, Panerai calibre P.2002/3, completely made by Panerai, 13 3/4 lignes, thickness 6.6 mm, 21 jewels, Glucydur balance, 28,800 alternations/ hour.
Kit Parechoc anti-shock device.
Power reserve 8 days with linear indicator, three spring barrels.
Functions : Hours, minutes, seconds, data, linear power reserve indicator.
Case Diameter 45 mm, AISI 316L polished steel with removable wire loop strap attachments (patented).
Screw-down serrated winding crown personalised OP.
Bezel Polished steel.
Back See-through with sapphire crystal. Dial Black with luminous Arabie numerals and markers.
Date window at 3 o'clock, small seconds at 9 o'clock. Linear power reserve indicator at 6 o'clock.
Crystal Sapphire, obtained tram corundum, 1.9 mm thick. Lens above the date window at 3 o'clock.
Anti-retlective. Water-resistance 100 metres.
Strap Alligator strap with large-sized polished steel buckle personalised PANERAI.
Production 400 units.
LUMINOR 1950 REGATTA RATTRAPANTE
Mouvement Mécanique à remontage automatique, calibre exclusif Panerai OP XVIII, 131/4 lignes, 31 rubis, balancier monométallique en Glucydur, 28800 alternances/ heure. Dispositif antichoc Incabloc.
Double roue à colonnes, réserve de marche de 42 heures. Décor côtes de Genève sur les ponts et la masse oscillante. Certificat chronométrique (C.O.S.C)
Fonctions Heures, minutes, petites secondes.
Chronographe rattrapante à deux compteurs, échelle tachymétrique Boîtier 44 mm de diamètre, en acier satiné AISI 316L.
Poussoirs du chronographe en acier satiné à 2, 4 et 8 heures (fonction rattrapante)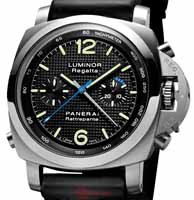 Movement Automatic mechanical, exclusive Panerai calibre OP XVIII, 131/4 lignes, 31 jewels, monometallic Glucydur' balance, 28,800 vibrations/hour.
Incabloc anti-shock device.
Double column wheel, power reserve 42 hours.
Côtes de Genève decoration on the bridges and oscillating weight. Chronometer Certificate (C.O.S.C)
Functions Hours, minutes, small seconds.
Split-seconds chronograph with two counters, tachymeter scale
Case Diameter 44 mm, in AISI 316L brushed steel.
Brushed steel chronograph push-pieces at 2, 4 and 8 o'c!ock (split-seconds function)
Panerai Radiomir 10 days GMT Platine
Mouvement Calibre mécanique automatique Panerai P.2003, entièrement réalisé par Panerai, 31 mm de diamètre (13 3/4 lignes), 8 mm d'épaisseur, 281 composants, 25 rubis, balancier en Glucydur, 28800 alternances/heure, amortisseurs de choc KIF parechoc", réserve de marche de 240 heures avec affichage linéaire, trois barillets, Millésimé, portant le même numéro que sur le boîtier (croissant de 1 à 50)
Fonctions : Heures, minutes, secondes, date, deuxième fuseau horaire avec indicateur jour/nuit, réserve de marche, dispositif zéro reset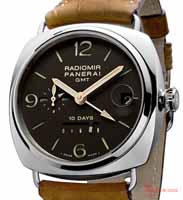 Boîtier, lunette et fond en platine, 45 mm de diamètre, avec anses à fil amovibles fixées au boîtier par de petites vis (brevet Officine Panerai) et couronne de remontoir vissée, personnalisée avec l'estampille Officine Panerai
Fond Transparent en saphir
Cadran Brun de type sandwich, aiguilles en or rose luminescentes, index et chiffres arabes luminescents; aiguilles bâton pour les heures et les minutes, aiguille flèche au centre pour le second fuseau horaire, date à 3 heures, affichage linéaire de la réserve de marche à 6 heures, petites secondes à 9 heures avec indicateur jour/nuit
Verre Saphir de corindon, 1,9 mm d'épaisseur, traitement anti-reflet.
Loupe du dateur fixée internement à 3 heures
Étanchéité Jusqu'à 100 mètres
Bracelet Alligator suédé, coutures écrues et boucle en or blanc réglable, personnalisée Panerai
Production 50 unités
Movement Automatic mechanical Panerai Calibre P2003, completely created by Panerai, diameter 31 mm (13 3/4 lignes), thickness 8 mm, 281 components, 25 jewels, Glucydur balance, 28,800 vibrations/hour, KIF Parechoc anti-shock device, power reserve of 240 hours with linear indicator, three spring barrels.
Millesimed, with the number (progressive from 1 to 50) corresponding to that on the case
Functions : Hours, minutes, seconds, date, second time zone with AM/PM indication, power reserve, second reset device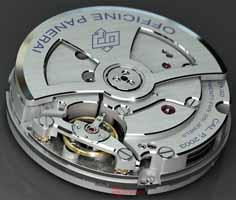 Case, bezel and back in platinum, 45 mm in diameter, with removable strap attachments fixed to the case with small screws (Officine Panerai patent) and screw-down winding crown, personalised with the Officine Panerai logo
Back See-through, sapphire crystal
Dial Brown, sandwich construction, with luminous pink gold hands, luminous markers and Arabic numerals; baton hour and minute hands, central hand with arrow point for the second time zone, date at 3 o'c!ock, linear indication of power reserve at 6 o'c!ock, small seconds counter with AM/PM indication at 9 o'c!ock
Crystal Sapphire, made from corundum, 1.9 mm thick, with antireflective treatment.
Internally mounted magnifying lens for the date window at 3 o'c!ock
Water-resistance 100 metres Strap Suede alligator with écru sewing and adjustable white gold buckle, personalised Panerai Production 50 units
radiomir chronographo 45mm
Mouvement Mécanique à remontage automatique, calibre exclusif Panerai OP XII, 131/4 lignes, 27 rubis.
Décor côtes de Genève sur les ponts.
Masse oscillante personnalisée PANERAI.
Balancier monométallique en Glucydur, 28800 alternances/heure.
Dispositif antichoc Incabloc .
Réserve de marche de 46 heures.
Certificat chronométrique (C.O.S.C.)
Fonctions : Heures, minutes, petites secondes
Chronographe à deux compteurs, échelle tachymétrique Boîtier 45 mm de diamètre en acier poli AISI 316L avec anses à fil amovibles (brevetées).
Couronne de remontoir vissée, personnalisée OP.
Poussoirs du chronographe en acier poli à 2 et 4 heures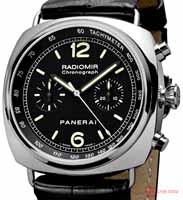 Movement Automatic mechanical, exclusive Panerai calibre OP XII, 131/4 lignes, 27 jewels. Côtes de Genève decoration on the bridges. Oscillating weight personalised PANERAI. Monometallic Glucydu( balance, 28,800 vibrations/ hour. Incabloc anti-shock device.
Power reserve 46 hours. Chronometer Certificate (C.O.S.C.) Functions Hours, minutes, sm ail seconds.
Chronograph with two counters, tachymeter scale
Case Diameter 45 mm in polished AISI 316L steel with removable wire loop strap attachments (patented).
Screw-down winding crown personalised OP.
Chronograph push-pieces in polished steel at 2 and 4 o'clock
P2004 8 days gmt
chronographe monopoussoir, remontage manuel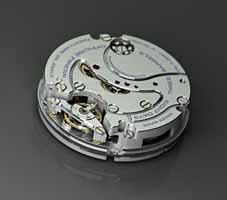 p2005 6 days gmt tourbillon