De Ville X2 Co-Axial chronographe
OMEGA est fière d'annoncer le lancement du chronographe X2 Co-Axial qui complète la collection De Ville – la collection de tous les superlatifs.
Ce fascinant nouveau garde-temps incorporant les fonctions de chronographe est appelé à suivre les traces et le succès de son prédécesseur à la forme carrée : adoptant l'audacieux design de la Cosmic de 1951 relancée en édition limitée dans la collection Museum, le chronographe X2 Co-Axial à remontage automatique est en effet issu d'un heureux mariage entre l'esthétisme de la X2 et la technologie de la De Ville Chronoscope.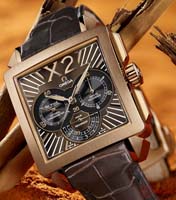 Son boîtier élargi en or rouge 18 carats ou en acier inoxydable protège un superbe cadran au charme rétro et aux lignes surdimensionnées.
Le calibre exclusif OMEGA 3202 battant au cœur de ce formidable chronographe allie avec bonheur performances sportives et présence imposante.
Afin d'abriter ce nouveau mouvement, les designers d'OMEGA ont ajouté deux millimètres à l'extraordinaire boîtier carré de la X2. Mesurant 37 mm x 37 mm, le chronographe X2 Co-Axial est disponible dans deux versions : dans une opulente version en or rouge 18 carats poli et brossé ou dans une brillante version en acier inoxydable.
OMEGA's superlative De Ville line is proud to announce the release of its latest X2 Co-Axial Chronograph: an exciting newcomer that follows in the steps of its successful square-shaped predecessor featuring the incorporation of chronograph functions.
This happy marriage of X2 aesthetics and De Ville Chronoscope mechanics is a sight to behold. Adopting the bold design cues from the 1951 Cosmic that was re-launched as a limited edition Museum Piece, the self-winding X2 is presented in an enlarged 18-carat red gold or stainless steel case that houses the handsome dial with its retro feel and oversized features.
Powering the heart of this formidable chronograph is OMEGA's exclusive Calibre 3202 in this winning rendition of sporting performance and imposing presence. Designers at OMEGA have enlarged the size of the X2 by two millimeters to house the new movement in a very conspicuous square-shaped case.
Measuring 37 mm x 37 mm, the new X2 Co-Axial Chronograph is available in two versions: in opulent brushed and polished 18-carat red gold or sleek stainless steel.
SPEEDMASTER BROAD ARROW
La nouvelle Speedmaster Broad Arrow est équipée du mouvement automatique exclusif OMEGA calibre 3313 doté de l'échappement Co-Axial améliorant sa fiabilité et sa précision à long terme.
En ligne avec la nature sophistiquée de ce garde-temps, le boîtier et le bracelet ont été manufacturés dans des matériaux nobles – parmi lesquels une superbe version combinant l'or rouge 18 carats et l'acier inoxydable.
Contribuant à l'éclat des trois modèles en or, son ingénieux bracelet à vis et goupilles permet d'ajuster la longueur simplement et rapidement et illustre parfaitement l'esprit innovateur d'OMEGA.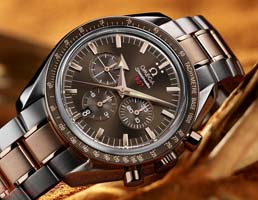 Fitted with OMEGA's exclusive Calibre 3313, this self-winding movement is equipped with the Co-Axial escapement offering even greater reliability and accuracy.
In tune with the sophisticated nature of this timepiece, the case and bracelet have been crafted in a choice of metals including a stunning combination of 18-carat red gold and stainless steel.
Embellishing the three gold models of the watch even further is the innovative "screw and pin" bracelet, an ingenious system for the rapid adjustment of the length of the bracelet.
Chronomètre De Ville Tourbillon Central Co-Axial
Le tourbillon occupant le centre du cadran, il a fallu faire appel à un système unique pour l'indication de l'heure : celle-ci résulte de la rotation axiale de deux disques en saphir, traités anti-reflets sur leurs deux faces, sur lesquels des aiguilles Alpha ont été gravées et dorées. Des index en or massif, facettés et diamantés polis figurent en appliques à 12, 3 et 6 heures.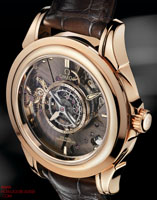 Bien que le tourbillon ait été inventé il y a plus de deux siècles et qu'il ait été développé pour des montres de poche, le Tourbillon Central Co-Axial OMEGA repousse les limites de l'innovation horlogère du XXIe siècle.
La cage de tourbillon a été réalisée en titane, un métal ultraléger et particulièrement résistant.
Le calibre, baptisé OMEGA 2635, est un mouvement automatique possédant une réserve de marche de 45 heures. L'échappement Co-Axial, une technologie exclusive à OMEGA permettant de réduire considérablement les frictions au cœur du mécanisme et donc d'en améliorer la fiabilité et la précision à long terme, représente rien moins que l'un des plus importants progrès horlogers depuis 250 ans et concourt à la perfection de ce mouvement hors du commun.
Les performances de ce garde-temps sont encore améliorées par un balancier-spiral libre permettant le réglage précis du mouvement. La précision de ce garde-temps a été officiellement reconnue et récompensée par le certificat de chronomètre octroyé par le COSC – le Contrôle Officiel Suisse des Chronomètres.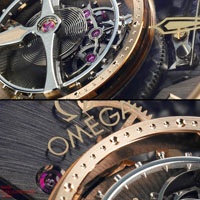 Le remontage se fait grâce à une première couronne située à 3 heures ; la mise à l'heure est opérée grâce à une seconde couronne située sur le fond du boîtier. Chaque montre OMEGA Tourbillon Central possède son propre numéro de série gravé sur le fond, accompagné de l'indication "Tourbillon".
L'étanchéité de la De Ville Tourbillon Central Co-Axial est garantie à 30 mètres / 100 pieds.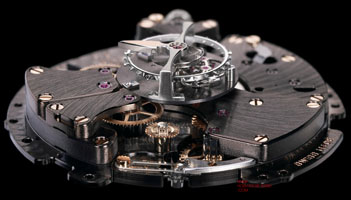 The tourbillon takes pride of place in full view at the centre of the watch and makes one revolution every minute. The seconds hand is mounted on the tourbillon cage and matching the red gold motif of this watch, an Alpha-shaped red gold insert is set into the tip of the hand.
This seconds hand sweeps over the small etched dots that make up the red gold seconds track. With the tourbillon mechanism in full view at the centre of the watch, a unique system is used to display the time.
Gold Alpha-style hour and minute hands are etched on to two separate sapphire discs with an anti-reflective treatment on both sides. The two discs rotate around the centre axis to display the time. Facetted and diamond polished solid gold indexes are applied at 12, 3 and 6 o'clock. Although the tourbillon was invented over two centuries ago for pocket watch movements, the Central Tourbillon Co-Axial boasts 21st century watch making innovations.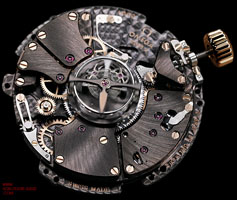 The tourbillon cage is made of lightweight and highly resistant titanium and now further improved by the Co-Axial escapement. OMEGA's Calibre 2635 is a self-winding movement with a 45-hour power reserve. The Co-Axial escapement, exclusive and proprietary OMEGA technology, represents one of the most important advances in watchmaking over the last 250 years and considerably reduces friction in the heart of the watch mechanism for improved long-term reliability and accuracy.
Performance is further enhanced by a free-sprung balance that allows for more precise adjustments of the watch. Such is the precision of this timepiece that it has been officially certified as a chronometer by the COSC or Contrôle Officiel Suisse des Chronomètres.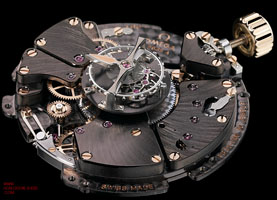 The crown located at 3 o'clock is for winding the movement while the second crown located on the case back is for setting the time. Each Omega Central Tourbillon is personalised with an individual serial number and the words 'Tourbillon' engraved on the case back. For all Central Tourbillon models, the classic De Ville Co-Axial case guarantees water resistance to 30 metres/100feet.
Speedmaster 50ème anniversaire 1957-2007 SÉRIE LIMITÉE OMEGA Speedmaster Professional Chronograph Moonwatch
Avec son mouvement à remontage manuel, son cadran noir, ses compteurs de chronographe et son échelle tachymétrique, cette Professional Moonwatch produite en série limitée possède la même force et le même caractère que les premières Speedmaster de 1957.
Son mouvement est le fameux calibre 1861.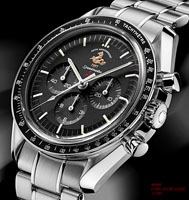 Le boîtier en acier inoxydable de 42 mm de diamètre de cette Moonwatch produite en série limitée présente les cornes facettées et incurvées ainsi que les larges poussoirs du chronographe caractéristiques de la collection Speedmaster. Le médaillon en hippocampe est étampé sur le fond en acier inoxydable, sur lequel figurent également le numéro de série de la montre 0000/5957 et l'inscription : "FLIGHT-QUALIFIED BY NASA FOR ALL MANNED SPACE MISSIONS. THE FIRST AND ONLY WATCH WORN ON THE MOON" ("Qualifié par la NASA pour toutes les missions spatiales habitées. La première et unique montre portée sur la Lune").
OMEGA's Limited Series launch of the Speedmaster Professional Chronograph Moonwatch is sure to create a stir among Moonwatch purists. To celebrate the 50th anniversary of the Speedmaster - the first and still the only watch to have been worn on the Moon - a Limited Series of 5,957 stainless steel pieces with a special commemorative design of a golden seahorse on the dial will give collectors a rare opportunity to own a piece of space history.
The physiognomy of the 42 mm Professional Chronograph Moonwatch with its black dial, chronograph counters and tachymeter scale bears the DNA of the original hand-winding 1957 Speedmaster and its heart is powered by the famous Calibre 1861 that accompanied the watch into zero gravity.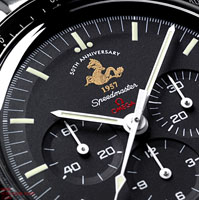 The 42 mm stainless steel case of the Limited Series Moonwatch has inherited dominant Speedmaster family traits with its iconic curved and facetted horns and its large push buttons to activate the chronograph. A seahorse medallion has been embossed on the stainless-steel case back as well as the number of the Limited Series 0000/5957 and the words: "FLIGHT-QUALIFIED BY NASA FOR ALL MANNED SPACE MISSIONS. THE FIRST AND ONLY WATCH WORN ON THE MOON".
Omega Speedmaster Professional Moonwatch Co-Axial en série limitée
Les collectionneurs de la Moonwatch ont de quoi se réjouir : à l'occasion du 50ème anniversaire du légendaire chronographe Speedmaster, OMEGA lance une édition limitée de la Speedmaster Moonwatch. Nul autre garde-temps n'a joué un rôle aussi important dans la conquête spatiale et la Speedmaster reste la première et unique montre à avoir été portée sur la Lune.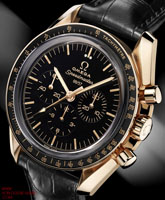 Afin de célébrer dignement ce jubilé, OMEGA lance la Moonwatch dont les séries limitées font référence à l'année 1957 - année de son lancement - avec 57 pièces offertes dans les trois couleurs d'or et une série limitée à 1957 pièces en acier inoxydable. Ces magnifiques garde-temps sauront ravir les nombreux collectionneurs de cette montre-culte.
Moonwatch collectors around the world have cause for celebration as OMEGA marks the 50th Anniversary of its legendary Speedmaster Chronograph with a Limited Series release of the Speedmaster Moonwatch. No other watch has played such a crucial role in man's quest to conquer space as the Speedmaster: the first and still the only watch to have been worn on the Moon.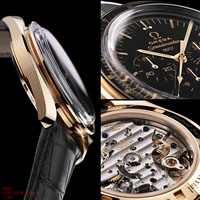 To commemorate this milestone, OMEGA pays tribute to the year 1957 when the Speedmaster was first launched and will limit production to 57 pieces of each of the three gold versions of the Moonwatch and to 1957 pieces of the stainless steel model, making this an exclusive and coveted collector's item.
Chronographe OMEGA Seamaster NZL-32
En l'honneur d'Emirates Team New Zealand et pour marquer sa fonction de montre officielle de l'équipe, OMEGA est fière de présenter le chronographe Seamaster NZL-32, nommé d'après le célèbre bateau qui remporta la Coupe de l'America en 1995 et développé en collaboration avec Dean Barker, ambassadeur d'OMEGA et skipper du Team New Zealand.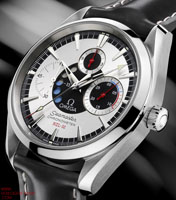 Une grande attention a été accordée aux besoins essentiels du skipper et de son équipe lors d'une régate. Ainsi, la fonction « départ de régate » indique clairement les dix minutes précédant le signal du départ : cet indicateur, constitué de cinq sphères évidées situées dans la partie centrale du cadran, change progressivement de couleur (d'abord bleu, puis rouge), totalisant ainsi deux périodes successives de cinq minutes. Equipé du calibre OMEGA 3602, le mouvement chronographe automatique, certifié chronomètre, dispose d'une réserve de marche de 40 heures.
In honour of Emirates Team New Zealand and to mark its role as the team's official watch, OMEGA is proud to present its new Seamaster NZL-32 chronograph, named after the boat that won the America's Cup in 1995 and developed in collaboration with OMEGA Ambassador Dean Barker, skipper of Team New Zealand.
Particular attention was paid to the key needs of the skipper and his crew during a regatta. The "start of the regatta" function clearly indicates the ten minutes preceding the starting signal by means of a special five-dot indicator. The dots gradually fill with a different colour ─ first blue, then red ─ as each successive five-minute period elapses. The OMEGA calibre 3602 self-winding movement is chronometer-certified and has a 40-hour power reserve.
De Ville Co-Axial Chronoscope pour dames
La famille d'élite OMEGA De Ville accueille le nouveau modèle Chronoscope pour dames, une montre joaillerie dont les diamants éblouissants de la lunette et la nacre blanche chatoyante du cadran semblent posséder leur propre lumière. Les larges dimensions (41 mm) de son boîtier en palladium 950 et les performances de son chronographe permettent à ce nouveau garde-temps d'apporter une note sportive aux lignes classiques de la collection De Ville.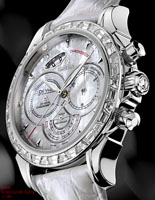 Suivant l'adage que la beauté n'est pas tout, les femmes se soucient aujourd'hui tout autant des qualités mécaniques de leur garde-temps que de son allure. Pour répondre à leurs attentes, le Chronoscope dame est équipé du mouvement exclusif OMEGA calibre 3313 à échappement Co-Axial. L'éclat blanc des diamants, les reflets du boîtier en palladium 950 et le lustre du cadran de nacre blanche confèrent au Chronoscope Chronographe Automatique 41 mm pour dames une combinaison séduisante et féminine de matériaux précieux et de hautes performances techniques.
OMEGA's elite De Ville family welcomes the Ladies' Chronoscope, a scintillating high-jewellery watch that shines with its own light emanating from the sparkling diamonds on the bezel and the radiant white mother-of-pearl dial. Set in a 41 mm precious metal 950 Palladium case, the De Ville Ladies' Chronoscope adds a sporty edge to its De Ville pedigree with its high-performance chronograph functions.
Moving beyond the adage that "beauty is skin deep", women watch buyers are as concerned today with the mechanical integrity of their timepiece as they are with its beauty. For this reason, the Ladies' Chronoscope has been fitted with OMEGA's exclusive Calibre 3313 complete with Co-Axial escapement. With its icy cool juxtaposition of diamonds, gleaming 950 Palladium metal case and white mother-of-pearl dial, the 41 mm Ladies' Chronoscope self-winding chronograph is a seductive combination of unabashed femininity, precious materials and cutting-edge mechanical performance.
OMEGA Seamaster Planet Ocean Co-Axial Collection Red Gold
Cette nouvelle collection comprend un garde-temps disponible en deux grandeurs (42 mm ou 45,5 mm de diamètre), ainsi qu'un chronographe automatique dont le boîtier mesure 45,5 mm de diamètre.
Jusqu'à présent uniquement disponible avec un cadran mat sportif, la Seamaster Planet Ocean Co-Axial est désormais déclinée avec élégance et distinction, grâce notamment au nouveau cadran noir semi-mat rehaussé du sigle OMEGA en or rouge qui pare cette nouvelle Collection.
Les index lumineux, en appliques en or rouge, s'unissent aux chiffres arabes situés à 12, 3, 6 et 9 heures. Le guichet dateur est quant à lui positionné entre 4 et 5 heures pour la version chronographe et à 3 heures pour les autres modèles. Sur les aiguilles flèche facettées des heures, minutes et secondes en or rouge, des inserts en Super-LumiNova blancs remplacent la substance verte habituellement utilisée.
Sur la version chronographe, la petite seconde, le compteur des 12 heures et celui des 30 minutes, tous rehaussés de cercles dorés, sont positionnés respectivement à 9, 6 et 3 heures. Une échelle des minutes en or rouge est également clairement lisible sur la bague noire en aluminium figurant sur la lunette unidirectionnelle.
La version chronographe est équipée du calibre mécanique 3313, un mouvement automatique doté d'une réserve de marche de 52 heures.
Garant des hautes performances du chronographe, le mécanisme à roue à colonnes permet d'assurer les départs sans à-coup de l'aiguille des secondes ainsi que la précision des arrêts et des remises à zéro du chronographe, et ceci sans interférer avec la fonction de garde-temps de la montre. Les versions autres que le chronographe sont équipées du calibre 2500.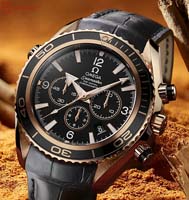 The automatic version is available in a 42mm or 45.5mm case while the more complex automatic chronograph model is presented in a 45.5mm case.
Previously only available with a sporty matte dial, the Red Gold Collection is offered with a new elegant and glamourous semi-matte black dial enhanced by a red gold Omega logo. The applied red gold luminous hour markers are combined with Arabic numerals placed at 12, 3, 6 and 9 o'clock. The date window is positioned between 4 and 5 o'clock on the chronograph's dial while on the other models it is found at 3 o'clock.
To complement the red gold facetted arrowhead hour, minute and seconds hands, white Super-LumiNova replaces the more common green material. In the case of the chronograph, the sub dials for small seconds, 12 hours and thirty minute totalizers are placed at nine, six and three o'clock respectively and feature applied golden surrounds.
The black aluminium 60 minute track ring on the uni-directional rotating bezel also features red gold details. The chronograph version is fitted with the caliber 3313, a self-winding mechanical movement with a power reserve of 52 hours.
The column-wheel mechanism serves to perfect the chronograph's performance. It ensures a smooth start to the sweep of the seconds hand when the chronograph is activated and provides precision stop and reset functions that do not interfere with the main timekeeping of the watch.
The non-chronograph versions are fitted with the caliber 2500.
SPEEDMASTER BROAD ARROW
La Speedmaster Broad Arrow est équipée du calibre exclusif OMEGA 3313 et dispose des derniers perfectionnements en matière de technologie horlogère.
Au cœur de ce mouvement automatique se trouve l'échappement Co-Axial permettant de réduire considérablement les frottements au sein du mouvement mécanique et donc de réduire ses besoins en lubrifiant, assurant ainsi une plus grande fiabilité et une meilleure précision à long terme.
Le mécanisme à roue à colonnes du chronographe a été quant à lui développé pour assurer le départ sans à-coup de l'aiguille des secondes lorsque le chronographe est mis en marche et pour garantir la précision de l'arrêt et de la remise à zéro.
La Speedmaster Broad Arrow possède une réserve de marche de 52 heures et présente un guichet dateur à 6 heures. Sa précision a été en outre officiellement reconnue par le Contrôle Officiel Suisse des Chronomètres (le fameux COSC) qui a octroyé à ce chronographe le certificat de chronomètre.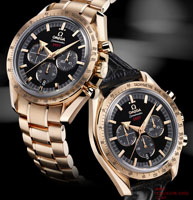 Cette Speedmaster Broad Arrow, dont le boîtier de 42 mm offre de superbes contrastes entre ses surfaces polies et brossées, est disponible dans un choix de métaux : de très luxueuses versions en or rouge ou jaune 18 carats, une séduisante version mêlant l'or rouge 18 carats à l'acier inoxydable et une version plus traditionnelle en acier inoxydable.
La couronne et les poussoirs du chronographe sont équipés de double joints spéciaux garantissant une étanchéité à 100 mètres / 330 pieds.
The Speedmaster Broad Arrow boasts the latest advances in watch technology and has been fitted with OMEGA's exclusive Calibre 3313. At the heart of the self-winding movement is the Co-Axial escapement that considerably reduces friction in the mechanical watch movement, lessens the need for lubrication and in turn offers improved long-term reliability and accuracy. The column wheel chronograph mechanism of this timepiece is designed to ensure a smooth start to the sweep of the seconds hand when the chronograph is activated and precision stop and reset functions.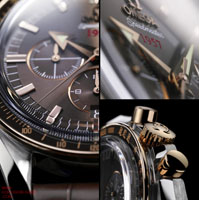 The Speedmaster Broad Arrow has a power reserve of 52 hours, a convenient date window at 6 o'clock and has been officially certified as a chronometer by the Contrôle Officiel Suisse des Chronomètres, the COSC. The 42 mm case of the Broad Arrow is available in a variety of metals: in sumptuous 18-carat red gold, 18-carat yellow gold, a dramatic combination of stainless steel and 18-carat red gold and more traditional stainless steel.
The case has been beautifully polished and brushed and the special double gaskets on the crown and chronograph pushers ensure water resistance to 100 metres/330 ft.
Marine 1932 Collection Museum Série Limitée
La collection OMEGA Museum, composée de répliques de garde-temps historiques de la marque, s'élargit avec le lancement de la Marine 1932. Cet admirable exemple du style Art déco fut la première pièce de la lignée des montres de plongée Seamaster.
La nouvelle édition, limitée à 135 pièces, commémore les tests auxquels la Marine 1932 fut soumise en 1937, tests qui confirmèrent officiellement son étanchéité à 135 mètres.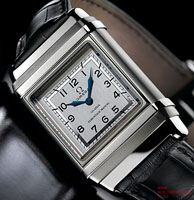 En 1936, l'OMEGA Marine avait été soumise à une série d'expériences menées avec la technologie de l'époque. Le protocole de ces expériences incluait l'immersion de la montre dans de l'eau à une température de 85°C pendant plusieurs minutes avant de l'immerger sans transition dans une eau à 5°C, ceci afin de tester sa résistance à des variations extrêmes de température.
Dans une autre expérience, illustrée dans une publicité de l'époque, la montre était plongée pendant une durée de 30 minutes à une profondeur de 73 mètres dans le lac de Genève, dont la température à cette profondeur était de 5°C. Bien que l'étanchéité de cette montre unique ait été ainsi démontrée, OMEGA ordonna une nouvelle série de tests, plus exigeants encore et conduits de manière plus scientifique.
La montre fut donc testée par le Laboratoire Suisse d'Horlogerie de Neuchâtel en mai 1937, qui prouva son étanchéité à une pression de 13,5 atmosphères, équivalant à une profondeur de 135 mètres.
Le fameux scientifique et explorateur océanique américain Charles William Beebe plongea, équipé de lest, à une profondeur de 14 mètres dans l'Océan Pacifique avec une OMEGA Marine au poignet. Par la suite, Beebe confia que « la résistance à l'eau et à la poussière [de l'OMEGA Marine], sa robustesse et sa résistance à la rouille représentaient un réel progrès dans la science horlogère ».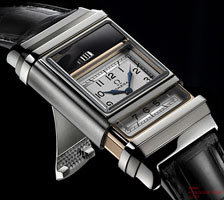 OMEGA expands its Museum Collection of reproduction vintage timepieces with the addition of the Marine 1932 watch: the first in lineage of Seamaster divers' watches and an eloquent proponent of Art Deco aesthetics. This Limited Series of 135 recreations of the Marine 1932 commemorates the 1937 trials that officially certified the watch's water resistance to 135 metres.
The first rudimentary experiments on the Marine watch were conducted in 1936 and involved immersing the watch into water at a temperature of 85° Celsius for several minutes and then plunging it directly into water with a temperature of 5° Celsius to test its resistance to extreme temperature variations.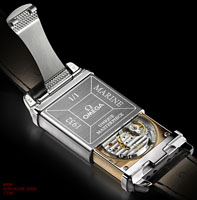 In another experiment, illustrated in a period advertisement, the watch was sunk to a depth of 73 metres in nearby Lake Geneva at a temperature of 5° Celsius for 30 minutes. Although the watch's performance attested to its water resistance, more exacting and controlled testing was commissioned by OMEGA.
After a series of trials undertaken by the Swiss Laboratory for Horology in Neuchâtel in May 1937, the watch was certified as being able to withstand a pressure of 13.5 atmospheres, equivalent to a depth of 135 metres, without any water intake whatsoever.
Dr. Charles William Beebe, a famous American ocean explorer, weighted himself down and took a 14-metre plunge in the Pacific Ocean with his OMEGA Marine. Upon surfacing, Beebe proclaimed that the Marine's "resistance to water and dust, its robustness and resilience to rust represent true progress in watchmaking science".
OMEGA dévoile son mouvement manufacture exclusif et lance sa nouvelle collection intitulée Hour Vision
Composé de nombreux éléments à la pointe de la technologie, le nouveau mouvement automatique a été certifié chronomètre par le COSC. Il comprend 202 composants entièrement nouveaux et est naturellement doté de la dernière version de la technologie Co-Axiale brevetée par OMEGA, qui garantit la précision et la performance à long terme du chronomètre.
Ce mouvement virtuose de 13 lignes possède deux barillets : grâce à l'énergie dégagée, la montre connaît une meilleure stabilité de marche et dispose d'une remarquable réserve de marche de 60 heures.
Ces attributs sont complétés par un mécanisme de remontage automatique bidirectionnel et une fonction fuseau horaire qui permet de régler l'aiguille des heures en toute précision. La beauté intrinsèque du mécanisme est reflétée par le luxe des finitions, puisque d'élégantes vis noires se marient aux délicates arabesques gravées.
Ce mouvement est également proposé avec le rotor et le pont de balancier en or rouge 18 carats (calibre 8501).
Pour célébrer le lancement de ce mouvement manufacture exclusif, OMEGA est fier de présenter une collection exceptionnelle de montres judicieusement nommées Hour Vision, dans la ligne De Ville. Le boîtier unique est une prouesse technique qui améliore la visibilité de ce mouvement minutieusement ouvragé, à travers les ouvertures latérales en verre saphir transparent.
Le cadran Hour Vision épuré comprend des aiguilles en or facettées à la tranche délicatement polie. Le bracelet curviligne est facilement réglable grâce à une vis et un système d'attache inédits, rehaussés par la figure de l'emblème OMEGA sur la boucle.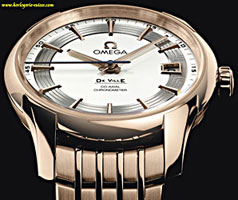 Renowned as the watchmaking company which produced the first-ever industrialized movement and always looking to improve the performance and quality of its timepieces, OMEGA has taken a step further and launched its in-house manufacture calibres 8500/8501. The new calibres are launched for the first time in a revolutionary collection of timepieces within the De Ville range aptly named Hour Vision. OMEGA has been working on improving the mechanical watch for over half a decade and when setting out on the Calibre 8500 project, OMEGA's aim was to up-grade its existing proprietary Co-Axial technology which improves precision over long periods. Introduced in 1999, the Co-Axial escapement was first developed by the respected British master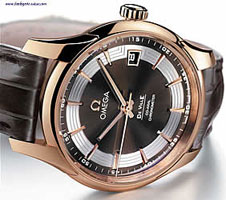 watchmaker Dr. George Daniels, in conjunction with OMEGA. The automatic mechanism is driven by a highly efficient bi-directional rotor. The energy is then transmitted through two barrels providing the watch with an impressive power reserve of 60 hours. Adjusting the watch when traveling through time-zones is simple as the hour hand can be moved separately from the minutes and seconds hands. The 8500/8501 calibres are COSC (Contrôle Officiel Suisse des Chronomètres) certified chronometers. As befits a movement of this category great care has been taken in the finishing and decorating of the components. In the case of the Calibre 8501, the rotor and balance bridge are fashioned out of 18 Ct red gold.
The presence of 18 Ct red gold components is reminiscent of OMEGA's rich watch making heritage as historically, red gold had been used in OMEGA movements. Screws, barrels and the balance wheel are blackened -as opposed to heat treated blued steel- to create an unusual and contemporary matt finish.
The bridges and the rotor are decorated with an "arabesque" Côtes de Genève pattern which is a world premier.
In the case of the 8500, the elegant monochrome look, created by using all rhodium and black details, give a futuristic finish to this timepiece: A very successful reinterpretation and modernisation of Omegas's watch making aesthetics. The beauty of the movement is clearly visible through sapphire glass apertures in the side of the watchcase and through the sapphire crystal case back.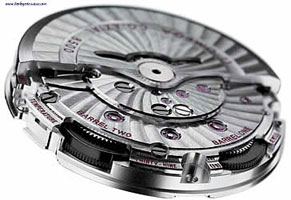 To celebrate the launch of its exclusive in-house manufacture calibres 8500/8501, OMEGA proudly unveils an exceptional collection of revolutionary timepieces within the De Ville range: Hour Vision. The 41 mm case of the De Ville Hour Vision adopts the current style for larger timepieces and glistens with eye-catching details that proudly announce OMEGA's presence in the highest echelons of watch making.
The calibre 8500/8501 pays tribute to a new and luxurious look for OMEGA's movements for the third millennium.
Four sapphire glass apertures on the sides of the case, as well as the more traditional sapphire glass case back, fill the heart of the watch with light showcasing the mechanical pedigree and the beautiful details of the rhodium calibre 8500 or rhodium and 18 Ct red gold calibre 8501.
The Hour Vision sets out to be different embodying the new direction of manufacturing for OMEGA without forsaking the classic good looks of the De Ville family.
Details such as the four glass openings located on either side of the winding crown, at 9 o'clock and between the lugs of the traditional round De Ville case shape, give the watch a contemporary and sophisticated feel as well as highlighting the technical superiority of the watch, both inside and out. The glass apertures are not just an attractive feature but a technical breakthrough: an entire sapphire case is set into the stainless steel or 18 Ct red gold case so that the watch is still waterproof to 100 metres and shock-resistant up to 5000 G.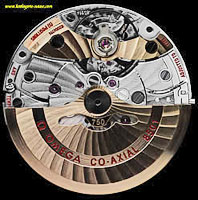 The De Ville Hour Vision is presented either on a black or brown alligator leather strap that is integrated into the case between the newly designed lugs. The strap features an insert to avoid strain and cracking of the leather at the joint with the lugs and is fastened with a fold-over clasp (in either 18 Ct red gold or stainless steel) ensuring the watch remains securely fastened yet offers maximum comfort to the wearer. The metal bracelets (including a new patented screw and pin system allowing a very easy adjustment) feature an entirely new design and look and, set in the metal bar clasp is a butterfly deployant with an 18 Ct gold polished OMEGA logo.