Kari Voutilainen
---
Les nouveautés 2007 des montres Voutilainen
---
Chronographe Voutilainen
"Chef d'oeuvre"
Le nouveau Chronographe "Chef d'oeuvre" dispose d'un cadran de type « régulateur », les heures et les minutes étant disposées "à 6 heures".
Ce dessin met à l'honneur l'aiguille des secondes du chronographe, finement façonnée à la main et bleuie, d'une lisibilité parfaite.
Le cadran d'une sobre élégance, guilloché à la main, met en valeur la disposition asymétrique des compteurs, celui des secondes courantes, assez large, situé « à 11 heures », et le totalisateur des minutes du chronographe situé «à 3 heures».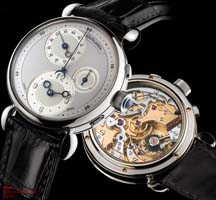 Première mondiale du système d'échappement Carbontime™ comportant un ressort en spirale monofilament en fibre de carbone, et un balancier en céramique transparente muni d'ajustements fins.
Réserve de marche : 55 heures.
Boîtier d'un diamètre de 39 mm, en or blanc 18 carats, exécuté à la main, orné de cornes "en forme de gouttes", et boucle de bracelet en or blanc 18 carats également faite à la main.
The new Masterpiece Chronograph uses a regulator style dial layout, with the hours and minutes positioned at 6 o'clock.
This naturally accentuates the extremely fine, hand made and blued chronograph seconds hand, without compromising legibility.
A subdued style of engine turned dial guilloche was chosen that complements the large, asymmetrically positioned sub dial for the seconds at 11 o'clock and the sub dial of the minute counter at 3 o'clock.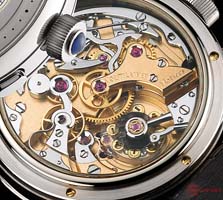 First use of the Carbontime™ escapement with monofilament carbon fiber balance spring and transparent ceramic balance wheel with adjustable weights.
55 hours of power reserve.
Hand made, 39.00mm diameter 18-carat white gold case with teardrop lugs, with hand made 18-carat white gold buckle.
Répétition décimale 8, de Voutilainen
Montre à répétition décimale. Pièce unique.
Mécanisme à répétition décimale, muni de masses distinctes agissant sur deux timbres.
Réserve de marche de 32 heures.
Balancier en acier inoxydable, à inertie variable, doté de vis d'ajustement fin en or.
Ressort en spirale, avec courbe Phillips.
Echappement de type levier suisse.
32 rubis.
Boîtier en or blanc, d'un diamètre de 39 mm, à fond visible.
Bracelet en crocodile, cousu à la main.
Cadran en or, guilloché à la main, avec des chiffres en or appliqués.
Cadran subsidiaire des secondes « à 6 heures ».
Aiguilles composées d'or et d'acier.
Verres saphir, face avant et face arrière.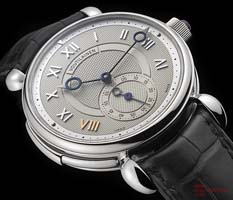 Decimal minute repeater. Unique piece.
Decimal minute repeating mechanism, acting with two hammers on two gongs.
Running reserve 32 hours.
Stainless steel variable inertia balance wheel with gold timing screws.
Hairspring with Phillips over coil.
Swiss lever escapement.
32 jewels.
39 mm white gold case with open back.
Hand sewn crocodile skin strap.
Gold engine turned dial with gold applied numerals.
Subsidiary second dial at '6 o'clock'.
Hands are made of gold and steel.
Sapphire glasses front and back.
Voutilainen 'OBSERVATOIRE' Wristwatch
As chance would have it, Kari Voutilainen had a stroke of luck, and found several movements, which had never been assembled after being fabricated. He made the decision to create a very limited series of wristwatches using theses remarkable Peseux base calibers.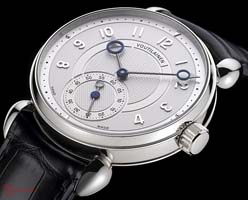 Each movement has been technically adjusted and tested before being finished with hand anglage and perlage to bring it to the highest levels of visual finish possible. Befitting such exceptional timepieces, a very rare and unique system of balance spring has been used. The exterior of the spring uses a typical Breguet overcoil, whilst the internal curve uses the little known Grosmann curve.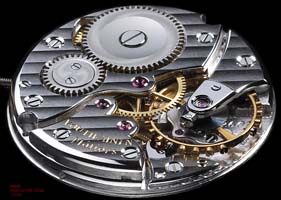 Grosmann was a teacher at the watchmaking school at Le Locle in the late early 20th century, and he codified a technique that gives the same amount of attention to the internal curve of the balance spring as the external overcoil. Virtually unknown and fallen into disuse, the OBSERVATOIRE wristwatch marks the first use of this curve in the 21st century, underlining the fact that many of the older watchmaking techniques still have their place of honor in the present day.
Voutilainen Masterpiece 7
Dotée des mécanismes ingénieux développés pour le calibre «Mouvement répétition minutes» sonnant les heures, les dizaines de minutes et les minutes, cette nouvelle création intègre une complication supplémentaire élaborée à la demande d'un client privé.
La nouvelle Masterpiece hérite de la position avantageuse de la petite seconde à 6 heures et s'enrichit d'un affichage 24 heures dans une nouvelle zone de temps ajoutée à 12 heures.
Ce cadran jour-nuit gravé de figures stylisées symbolisant le soleil et la lune est réalisé en or blanc et or jaune 18 carats. Le mécanisme est actionné par l'intermédiaire de la couronne de remontoir, qu'il suffit de presser légèrement pour faire avancer d'une heure cette seconde zone de temps.
Building further on the mechanical concepts already presented in the 'Decimal Minute Repeater' caliber, which strikes hours, 10 minute intervals and minutes, this new creation presents additional concepts built to the requests of a private client.
The new Masterpiece retains the clear and easily readable seconds placement at 6 o'clock of the previous Masterpiece, now however a 24-hour indicator for a second time zone has been added at 12 o'clock.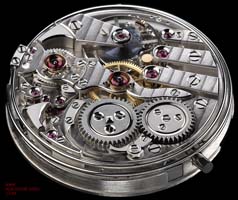 The day and night dials of this indicator are engraved with stylized sun and moon figures in 18 carat yellow and white gold. The mechanism is actuated simply via the crown; by pushing it in a short, clearly tangible distance, the second time zone advances forward one hour.
Voutilainen Decimal repeater 9 'Tantalor'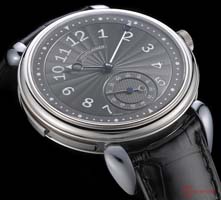 Decimal minute repeater movement, LeCoultre ebauche beating at 18,000 v.p.h. showing hours, minutes and small seconds. Strikes the hour and 10 minute intervals followed by minutes, with two hammers acting on two gongs.
Free sprung variable inertia balance wheel, diameter 13.5mm with 18-carat gold adjustment screws and Breguet-Phillips hairspring.
45mm x 11mm thick Tantalum case with 18-carat white gold crown, slide, bezels and buckle.
Ruby endstones for the escapement wheel.
29 jewels.
Hand made, 18-carat rhodium plated gold hands.
34 hours of power reserve.
18-carat gold, engine turned dial, finished in anthracite finished soleil and clou de Paris guilloché with crème colored, Luminova filled Arabic numerals.
Sapphire glass front and back with anti-reflective coating on front.
Hand sewn, black crocodile strap. ¨