Master Compressor Extreme LAB
Révolutionnaire, la Master Compressor Extrem LAB incarne sans contexte une réalisation d'exception. Fonctionnant sans huile ni graisse, le nouveau Calibre Jaeger-LeCoultre 988C qui équipe cette montre affiche des performances capables de traverser les années sans usure ni altération de ses performances. Même à des températures de moins 40°C, où les huiles et graisses d'une montre classique se figent et provoquent l'arrêt du mouvement, la Master Compressor Extrem LAB continue sa marche imperturbable. Une nouvelle géométrie de balancier, l'introduction de nouveaux matériaux plus légers et plus résistants dans l'échappement et un régulateur à tourbillon dernière génération permettent au Calibre Jaeger-LeCoultre 988C de fixer de nouvelles normes de précision.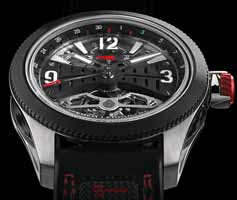 307 pièces Mouvement mécanique à remontage automatique, Calibre Jaeger-LeCoultre 988C, 28 800 alternances/h, 4 hertz Un barillet
Tourbillon avec cage en magnésium
Deux fuseaux horaires Indication AM/PM pour l'heure locale Calendrier à aiguille au centre qui saute la cage tourbillon
Ø mouvement 30,0 mm Hauteur mouvement 7,05 mm Ø boîte 45,0 mm Hauteur boîte 14,80 mm
Fonctionnement entre -40° et +60°C
Ni huile, ni graisse
Masse oscillante en platine-iridium et support carbone Palettes d'ancre en diamant noir
Pierres en easium
48 heures de réserve de marche
Etanche à 50 mètres
Réalisée en carbone et en titane
The revolutionary Master Compressor Extreme LAB undoubtedly represents an exceptional achievement. Operating without any form of lubricant, the new Jaeger-LeCoultre Calibre 988C powering this watch proves itself fully capable of running smoothly for years without any wear of its parts or deterioration of its performances.
Even at temperatures of -40°C, when the oils or grease in a classic watch freeze and bring the movement to a halt, the Master Compressor Extreme LAB continues its task unperturbed by any such factors.
A new geometry of the balance, the use of new lighter and more resistant materials in the escapement, and a latest-generation tourbillon regulator, converge in enabling the Jaeger- LeCoultre 988C to establish a new precision benchmark.
307 parts, Mechanical automatic movement, Jaeger-LeCoultre Calibre 988C 28,800 vibrations per hour, 4 hertz
A barrel
Tourbillon with magnesium carriage
Two time zones AM/PM indication with local time Central pointer-type calendar displays that jumps over the tourbillon carriage
Movement diameter 30.0 mm Movement thickness 7.05 mm Case diameter 45.0 mm Case thickness 14.80 mm Operational between -40° and +60°C
No oil, no grease
Iridium platinum oscillating weight with carbon base
Black diamond pallet-stones
Easium jewels
48-hour power reserve
Water-resistant to 100 metres
Crafted in carbon and titanium
Duomètre à Chronographe
La nouvelle ligne Duomètre s'impose d'emblée avec son nouveau concept de construction de mouvement tout simplement génial.
Deux mécanismes horlogers distincts, pour l'affichage de l'heure et pour une complication supplémentaire, sont synchronisés par un seul organe réglant.
Chacun de ses mécanismes possède sa propre source d'énergie. Il n'y pas d'interaction entre ces deux mécanismes. Le seul élément qu'ils partagent est l'organe réglant qui leur fournit la base de temps.
Un train de rouage est entièrement dédié à la fonction horaire (heures, minutes, secondes), et l'autre à la fonction chronographe, avec une seconde foudroyante au 1/6ème de seconde. Chaque mécanisme est alimenté par son propre barillet, assurant une réserve de marche de 50 heures (50 heures pour l'heure, 50 heures pour le chronographe). Il n'y a pas de transfert énergétique de part et d'autre.
Une seule couronne sert au remontage des 2 barillets : dans le sens horaire, elle remonte l'heure, dans le sens anti-horaire, le chronographe.
Ce calibre dévoile le tout premier chronographe de montre de poignet à fonctionner sans avoir recours à un embrayage pour assurer les fonctions de démarrage et d'arrêt de la mesure du temps.
Un seul et unique poussoir assure la parfaite synchronisation des 5 compteurs du chronographe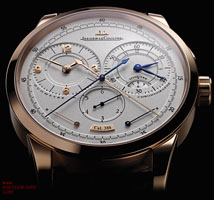 Le principe de construction du calibre 380 utilise un mécanisme horloger fascinant pour remplacer l'embrayage : la foudroyante. Montée sur l'axe de roue d'échappement, une deuxième roue de 30 dents transmet le rythme du balancier à une étoile de 6 dents. Cette dernière effectue une rotation complète par seconde, et indique par l'intermédiaire d'une aiguille à 6 heures le 1/6ème de seconde.
Par démultiplication, une chaine cinématique permet ensuite d'afficher les secondes, les minutes et les heures du chronographe. Un doigt actionné par la roue à colonne permet d'arrêter l'étoile de foudroyante dans une position intermédiaire qui laisse passer sans contact les dents de la roue d'échappement de foudroyante.
Lors de la remise en marche du chronographe, le doigt se retire et le couple fourni par le barillet du chronographe remet en rotation l'étoile qui a nouveau engrène avec la roue de 30 dents.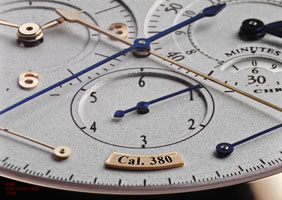 Deux grands compteurs, l'un à 10 heures avec les aiguilles des heures et des minutes de la montre et l'autre à 2 heures avec les aiguilles des heures et des minutes du chronographe, sont disposés symétriquement. Un guichet dans le compteur du chronographe laisse apparaître un disque qui indique les unités des minutes de 0 à 9 et facilite la lecture précise du temps mesuré.
Grâce à ce nouvel affichage qui fait l'objet d'une demande de brevet, il est possible d'un seul coup d'oeil de visualiser le temps écoulé en heures et en minutes, par exemple 2 heures et 6 minutes, sans qu'il soit nécessaire d'étudier minutieusement la position de l'aiguille des minutes.
Le cadran comprend également 2 indicateurs de réserve de marche, l'un à 7 heures pour la montre et l'autre à 5 heures pour le chronographe.
La seconde foudroyante qui se déplace par sauts de 1/6e de seconde est judicieusement disposée à 6 heures, au-dessous et entre les compteurs de la montre et du chronographe.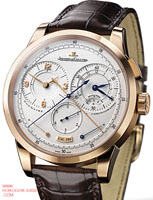 The new Duomètre line immediately commands attention with its brilliant new movement construction concept. Two separate watch mechanisms – one for the time display and another for an additional complication – are synchronised by a single regulating organ. Each of these mechanisms has its own source of energy and there is no interaction between the two. The only element they share is the regulating organ that supplies them with the time basis.
The first movement to embody this new construction concept is Jaeger-LeCoultre Calibre 380. It drives time displays with chronometer-like accuracy, as well as a chronograph that is unprecedented in terms of its indications and its precision. One going train is entirely dedicated to the conventional time-display function (hours, minutes, seconds), and the other to the chronograph function, including a one-sixth of a second jumpingseconds hand.
Each mechanism is powered by its own barrel, ensuring a 50-hour power reserve (50 hours for the time and 50 hours for the chronograph). There is no transfer of energy in either direction. A single crown serves to wind the two barrels: when rotated clockwise, it winds the time; and when turned counter-clockwise, it winds the chronograph.
This calibre is housed within the very first chronograph wristwatch to operate without any need for a coupling-clutch to handle the start/stop functions of timing operations. A single push-piece ensures perfect coordination of the five chronograph counters.
The construction principle of the Calibre 380 uses a fascinating horological device to replace the coupling-clutch: the jumping-seconds mechanism. Mounted on the arbor of the escape-wheel, an additional 30-toothed wheel transmits the cadence of the balance to a six-toothed wheel. The latter performs a complete rotation every second, and shows one-sixths of a second via a hand at 6 o'clock. By a reduction process, a kinematic chain enables it to display the chronograph seconds, minutes and hours. A finger-piece activated by the column wheel serves to stop the jumping-second star in an intermediate position that thus enables the jumpingsecond escape-wheel teeth to move past without touching it. When the chronograph is restarted, the finger-piece is withdrawn, the torque supplied by the chronograph barrel sets the star rotating again, and the latter once again engages with the 30-toothed wheel.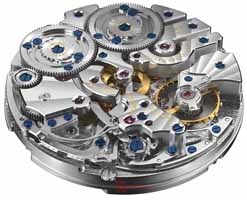 Two large subdials are arranged symmetrically, one at 10 o'clock with the watch hour and minute hands, and another at 2 o'clock with the chronograph hour and minute hands. An aperture in the chronograph subdial reveals a disc indicating the minuteunits from 0 to 9 and thereby facilitating accurate reading of the times being measured.
This new display, for which a patent has been filed, enables one to visualise at a glance the time elapsed in hours and minutes, for example 2 hours and 6 minutes, without needing to carefully study the position of the minute hand. The dial also carries two power-reserve indicators, one at 7 o'clock for the conventional watch hands and the other at 5 o'clock for the chronograph.
The jumping-seconds hand which jumps in one-sixth of a second increments is cleverly positioned at 6 o'clock, below and between the watch and chronograph subdials.
Master Compressor Diving GMT Lady
Elle se présente sous deux visages: dans une édition en acier poli, avec cadran guilloché et code de couleurs blanc/turquoise et en or rose poli avec code de couleurs blanc/argenté. Les aiguilles trapèze au centre indiquent les heures et les minutes alors que l'heure du second fuseau horaire apparaît dans un cadran à 9 heures qui s'orne de la rose des vents.
En regard, à 3 heures, une ouverture en arc de cercle permet de lire la date, portée sur un disque pivotant dans la même alternance de couleurs qui se retrouve sur l'indication de marche luminescente.
Animée par le mouvement automatique, Calibre Jaeger-LeCoultre 971D, qui bat à 28'800 alternances par seconde, la Master Compressor Diving GMT Lady offre une réserve de marche de 48 heures.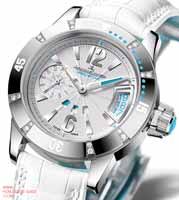 This watch features two different variations: in a polished steel edition with guilloché dial and white/turquoise colour coding; and in pink gold with white/silvery colour coding. The central trapeze-shaped hands indicate the hours and minutes, whereas the time in the second time zone appears in a subdial at 9 o'clock adorned with a wind rose.
Just opposite, at 3 o'clock, a sector enables one to read off the date shown on a pivoting disc featuring the same alternating colours as on the luminescent movement operating indicator. Driven by the Jaeger-LeCoultre Calibre 917D movement beating at 28,800 vibrations per hour, the Master Compressor Diving GMT Lady is endowed with a 48-hour power reserve.
Master Compressor Diving Chronograph Lady
Dotée du calibre 751D à 65 heures de réserve de marche, la Master Compressor Diving Chronograph Lady possède une lunette de plongée Jaeger-LeCoultre sertie de diamants et munie des touches de couleur caractéristiques pour les 15 premières minutes du temps de plongée.
Les heures et les minutes ainsi que les secondes du chronographe sont indiquées par des aiguilles au centre alors que les autres fonctions du chronographe s'affichent dans deux cadrans à 9 heures pour les heures et à 3 heures pour le compteur 30 minutes qui arbore la rose des vents bicolore, emblème de la ligne Master Compressor Diving Lady.
La date s'affiche dans un guichet entre 4 et 5 heures sur un disque aux chiffres décalqués turquoises sur fond blanc.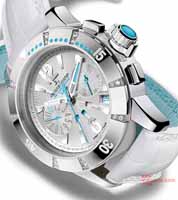 Equipped with Calibre 751D with a 65-hour power reserve, the Master Compressor Diving Chronograph Lady is fitted with a Jaeger-LeCoultre diving bezel set with diamonds and featuring characteristic touches of colour for the first 15 minutes of dive time.
The hours and minutes as well as the chronograph seconds are indicated by central hands, whereas the other chronograph functions are displayed in two subdials: an hour counter at 9 o'clock and a 30- minute counter at 3 o'clock complete with the two-tone wind rose which is the signature feature of the Master Compressor Diving Line.
The date appears through an aperture between 4 and 5 o'clock on a disc bearing turquoise transferred numerals against a white background.
Master Compressor Diving Pro Geographic
Reconnaissable à son diamètre de 46,3 mm et à son aspect caractéristique dû à la présence du profondimètre, comporte un nouveau mouvement sport Geographic.
Il suffit de positionner la ville emblématique de tout fuseau horaire dans un guichet disposé à 6 heures pour que l'heure s'en affiche immédiatement sur un cadran rond de 24 heures à 9 heures.
Cette indication laisse cependant ressortir le « râteau » nécessaires à la transmission de l'indication de la profondeur qui se lit à l'aide d'une aiguille bleue sur l'échelle logarithmique du profondimètre, luminescente et disposée sur un réhaut autour du cadran.
La date apparaît dans un guichet à 3 heures alors que l'indicateur de marche luminescent est situé dans la partie inférieure du cadran.
Dotée du mouvement automatique, Calibre Jaeger-LeCoultre 979, et étanche à 300 mètres, le modèle Diving Pro Geographic est disponible en titane grade 5 satiné.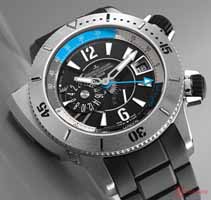 The Master Compressor Diving Pro Geographic, which is recognisable by its 46.3-mm diameter and its characteristic appearance due to the presence of the depth gauge, houses a new Geographic sports movement.
All the wearer needs to do is position the city symbolising a given time zone in an aperture at 6 o'clock, and the time there is automatically shown on a 24- hour subdial at 9 o'clock. Nonetheless, this indication highlights the "rack" required to transmit the depth indication, read off by a pointer on the logarithmic scale of the depth gauge shown on an outer dial ring.
The date appears in an aperture at 3 o'clock, whereas the luminescent movement operating indicator is located in the lower part of the dial.
Equipped with the automatic movement, Jaeger-LeCoultre Calibre 979, and water-resistant to 300 metres, the Diving Pro Geographic model is available in satin-brushed grade 5 titanium.
Master Compressor Diving Chronograph
D'un diamètre de 44 mm, la Master Compressor Diving Chronograph présente une étanchéité de 1000 mètres exceptionnelle pour un chronographe et des poussoirs dotés du système de compression.
Les heures et les minutes s'affichent, ainsi que les secondes du chronographe, sur le cadran principal alors que les heures et les minutes du chronographe s'inscrivent dans des compteurs ronds à 3 et à 9 heures.
La date apparaît pour sa part dans un guichet entre les index de 4 et 5 heures tandis que l'indicateur de marche luminescent occupe une ouverture en forme de demi-cercle à 6 heures.
Le réhaut autour du cadran comporte un pulsomètre qui permet de déterminer le nombre de pulsations cardiaques par minute. A cet effet, il suffit de déclencher l'aiguille des secondes du chronographe et de l'arrêter à la trentième pulsation ressentie.
Cette fonction est particulièrement appréciée des sportifs qui souhaitent optimiser leur entraînement par la prise en considération des valeurs limites de leur fréquence cardiaque.
Elle se révèle indispensable pour les plongées effectuées en apnée car le travail du plongeur consiste en ce cas à contrôler et à réduire son rythme cardiaque. Dotée d'une réserve de marche de 65 heures, la Master Compressor Diving Chronograph est disponible en titane grade 5 satiné en série limitée de 1500 pièces ou en or rose satiné.
Measuring 44 mm in diameter, the Master Compressor Diving Chronograph is water resistant to 1000 metres – an exceptional feat for a chronograph watch, as well as pushpieces fitted with the compression system. The hours and minutes, as well as the chronograph seconds, are shown by central hands moving over the main dial, whereas the chronograph hours and minutes appear in subdials at 3 and 9 o'clock.
The date is displayed through an aperture between 4 and 5 o'clock, while the luminescent movement operating indicator is shown in a semi-circular opening at 6 o'clock. The outer dial ring features a pulsometer enabling one to determine the number of heartbeats per minute. This is done by starting the chronograph seconds hand and stopping it after the 30th heartbeat measured.
This function is particularly appreciated by sports enthusiasts wishing to optimise their training by taking account of their maximum pulse rates. It proves indispensable for free-diving, precisely because the diver's task consists in reducing their heart rate.
Endowed with a comfortable 65-hour power reserve, the Master Compressor Diving Chronograph is available in satin-brushed pink gold, or in a limited edition of 1500 in satin-brushed grade 5 titanium.
Master Compressor Diving GMT
La Master Compressor Diving GMT, étanche à 1000 mètres, possède un diamètre de 44 mm.
Ses fonctions comprennent l'indication de l'heure locale qui peut être ajustée par sauts d'une heure dans les deux sens, l'heure d'un second fuseau horaire sur un cadran 24 heures situé à 9 heures, les minutes et la date dans un guichet à 3 heures. Elle se distingue également par la présence d'un indicateur de marche luminescent qui adopte la forme peu commune d'un rectangle allongé situé dans la partie inférieure du cadran.
Dotée du mouvement automatique, Calibre Jaeger-LeCoultre 975D, le modèle GMT est disponible en série limitée de 1500 pièces en titane grade 5 satiné.
The Master Compressor Divng GMT, water-resistant to 100 metres, measures 44 mm in diameter. Its functions comprise the indication of local time that can be adjusted in one-hour increments in either direction, the time in a second time zone shown on a 24-hour subdial at 9 o'clock, the minutes and the date in a window at 3 o'clock.
It is also distinguished by a luminescent movement operating indicator appearing in the lower part of the dial in the unusual shape of an elongated rectangle. Equipped with an automatic movement, Jaeger-LeCoultre Calibre 975D, the GMT model is available in a limited series of 1500 in satin-brushed grade 5 titanium.
Master Compressor Chronograph '46'
Entièrement dédié à la vitesse, le chronographe automatique - Calibre Jaeger-LeCoultre 751C - porte l'empreinte indélébile des records. D'une exceptionnelle fiabilité, son mouvement comporte une fonction de tachymètre qui permet de lire la vitesse à laquelle une distance est parcourue, à l'aide de l'aiguille naturellement jaune des secondes du chronographe. Non dénué d'une pointe d'agressivité, son look spécifique se reconnaît au remarquable design des compteurs des heures et des 30 minutes du chronographe qui ne tolère aucune imprécision.
Les indications apparaissent en blanc sur fond noir ou en noir sur fond blanc, à l'instar de la date qui s'affiche dans un guichet à 6 heures. Située sur le réhaut qui entoure le cadran noir à la décoration technique en motif perlage, l'échelle du tachymètre marque, dans une superbe recherche esthétique, la progression de la vitesse par des jeux chromatiques qui s'achèvent naturellement par la couleur jaune des performances inégalées.
D'un diamètre de 41,5 mm et dotée des caractéristiques poussoirs de compression, le boîtier de la Master Compressor Chronograph '46' est confectionné en acier satiné.
Sportive par excellence, elle porte également le numéro 46 en jaune luminescent sur son cadran noir ainsi que le numéro 46 laqué noir et la signature de Valentino Rossi gravée sur le fond.
Etanche à 100 mètres et doté d'un bracelet en alligator noir, le chronographe de tous les exploits est créé dans une édition limitée de 746 pièces.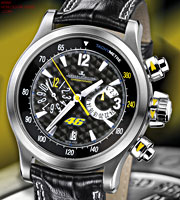 Entirely dedicated to speed, the automatic chronograph – powered by Jaeger-LeCoultre Calibre 751C – carries the indelible imprint of records. Its exceptionally reliable movement comprises a tachometric function enabling one to read off the speed at which a distance is covered, by means of the (obviously yellow!) chronograph second hand. Its unique and slightly aggressive look is highlighted by the remarkable design of the hour and 30-minute counters of the uncompromisingly accurate chronograph.
The various indications appear in white against a black background or vice versa, like the date shown in a window at 6 o'clock.
Located on the ring surrounding the black dial with its high-tech stippled motif, the tachometric scale featuring sophisticated aesthetics marks off the progress of speed through a play on colour that naturally culminates in the yellow shade standing for peerless performances.
Measuring 41.5 mm in diameter and equipped with the characteristic compression pushpieces, the case of the Master Compressor Chronograph '46' is crafted in satin-brushed steel. Clearly cut out for sporting accomplishments, it also carries number 46 in luminescent yellow against its black dial, as well as the black-lacquered number 46 and engraved Valentino Rossi signature on the case-back.
Water-resistant to 100 metres and fitted with a black alligator leather strap, this chronograph born to conquer is issued in a limited edition of 746.
Master Compressor Extreme W-Alarm
Avec son diamètre de 36.2 mm, le nouveau Calibre 912, automatique, peut se prévaloir d'être l'un des plus imposants de sa génération. Il est naturellement doté des dernières prouesses techniques de la recherche Jaeger-LeCoultre: un balancier à inertie variable muni de vis de réglage sur la partie extérieure de la serge, ainsi qu'une masse oscillante dont les billes sont réalisées en céramique, un matériau high-tech qui présente le précieux avantage de ne requérir ni entretien, ni lubrification. Ultime preuve de son extraordinaire robustesse, le Calibre Jaeger- LeCoultre 912 n'hésite pas à soumettre son inédit mécanisme de réveil à l'implacable test du mouton pendule.
La conception particulière du boîtier avec amortisseur de choc de la Master Compressor Extreme a requis des recherches approfondies sur les qualités acoustiques du réveil qui se sont concrétisées par la fabrication d'un timbre d'une nouvelle génération. Au lieu d'un timbre traditionnel fixé sur le fond du boîtier, le timbre entoure le mouvement, et fixé à la carrure de la boîte au moyen de deux goupilles. Le marteau frappe ce dernier à un point précis proche du lieu de fixation. La géométrie a également été repensée spécifiquement pour optimiser les qualités du son émis.
La fonction réveil présente une autre nouveauté remarquable: un double poussoir permettant de décider de la mise en marche ou de l'arrêt de la fonction réveil.
Les horlogers de la Manufacture ont en effet développé un système de bascule qui permet d'en commander à loisir le fonctionnement: il suffit de pousser la bascule inférieure pour empêcher le réveil de sonner, alors que le mouvement sur la bascule supérieure en assurera l'immédiate activation.
La montre Master Compressor Extreme W-Alarm se distingue par un affichage inédit de l'heure de réveil au moyen de deux disques juxtaposés qui apparaissent dans une grande fenêtre d'une parfaite lisibilité située à 9 heures.
Le positionnement du disque des heures est suivi par celui du disque des minutes, permettant ainsi la sélection de toute heure de réveil par intervalles de 5 minutes.
Le cadran de la montre se distingue également par la fenêtre à 3 heures de la date dont le réglage rapide est intégré à la couronne de la fonction réveil, une première sur le mouvement réveil Memovox.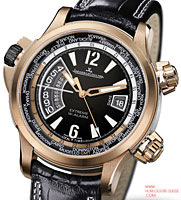 La lecture instantanée des 24 fuseaux horaires L'affichage des heures universelles constitue une fonction indispensable à l'instant de s'évader aux quatre coins du monde.
La lecture des 24 fuseaux horaires est possible grâce au disque des villes et de la bague tournante des 24 heures.
En acier et titane La montre Master Compressor Extreme W-Alarm se présente avec un support en acier et un boîtier en titane satiné. La couronne des villes en aluminium, à 10 heures, est habillée d'un rouge distinctif obtenu par eloxage. Elle est dotée d'un cadran qui joue les contrastes entre le noir et le rouge. Son cuir alligator noir se décroche en un tour de main pour être remplacé par un robuste caoutchouc, grâce à l'ingénieux système d'interchangeabilité breveté intégré dans la carrure.
The new 36.2-mm diameter automatic movement, Calibre 912, is one of the most imposing of its generation. It is naturally equipped with the latest technical feats stemming from Jaeger- LeCoultre's ongoing research: a variable-inertia balance fitted with adjusting screws on the outer rim; unidirectional winding; as well as an oscillating weight with ball-bearings in ceramics – a high-tech offering the invaluable advantage of requiring no maintenance or lubrication. As the ultimate proof of its extraordinary sturdiness, the original alarm mechanism of the Jaeger- LeCoultre Calibre 912 is subjected to the implacable trial of the striker test.
The alarm function comprises another remarkable new feature: a double pushpiece enabling the owner to decide whether to start or stop the alarm function. To achieve this, the watchmakers of the Manufacture have developed a shift system enabling one to control its operation at will: simply pressing on the lower part of the double-sided pushpiece prevents the alarm from striking, whereas the same action on the upper part ensures its immediate activation.
Engineers had to demonstrate the full measure of the ingenuity in successfully fitting this system around the city crown at 12 o'clock.
Reflecting these inner technical innovations, the Master Compressor Extreme W-Alarm watch is distinguished by an original display of the alarm time by means of two juxtaposed discs that appear through a perfectly readable window at 9 o'clock. The positioning of the hour disc is followed by the minute one, thus enabling the user to select any time in fiveminute intervals.
The watch dial also carries a date window at 3 o'clock with fast adjustment integrated into the alarm function crown, a first on the Memovox alarm movement. Instant reading of the 24 time zones World time display becomes an indispensable function when setting off to the four corners of the world.
The 24 time zones may be read off by means of the city disc and the rotating 24- hour ring.
Crafted from steel and titanium The Master Compressor Extreme W-Alarm comes with a steel support and a satin-brushed titanium case. The aluminium city crown at 10 o'clock is clad in a distinctive red colour achieved by anodic oxidation (also known as eloxage). The dial plays on black and red contrasts. Thanks to the ingenious patented interchangeable wristband system integrated within the case middle, the black alligator leather strap can be removed in no time at all and replaced by a rugged rubber one.
Master Eight Days Perpetual SQ
La Master Eight Days Perpetual SQ se caractérise par une multitude d'indications d'une telle complexité que leur disposition sur un cadran habituel représente déjà un tour de force esthétique. En effet, il doit comporter les indications des heures et des minutes, du quantième perpétuel (date, jour de la semaine, mois et année), de la phase de lune, de l'affichage jour/nuit et de la réserve de marche. Dans une version squelettée, le défi s'apparente à une gageure car toutes les fonctions doivent être immédiatement lisibles sans compromettre la transparence d'ensemble ni faire obstacle à la contemplation du mouvement squeletté.
L'affichage des diverses fonctions prend ainsi la forme de disques transparents sur lesquelles sont décalquées les informations relatives à chaque indication : chiffres pour les heures, les minutes, le quantième ; lettres pour le jour de la semaine et le mois ainsi que symboles pour la représentation de la phase de lune et l'indication jour/nuit. A l'exception de l'affichage de la réserve de marche et de la phase de lune où la flèche de l'aiguille indique la position actuelle, toutes les autres indications sont portées sur des disques pivotants qui offrent par contraste, au moment de leur passage sur un secteur clair, une lecture aisée et immédiate de la valeur correspondante. L'indicateur jour/nuit comporte également la zone rouge de sécurité qui prévient l'utilisateur de ne pas procéder à un réglage entre 21 heures et 3 heures du matin afin d'éviter tout endommagement du mécanisme du quantième perpétuel.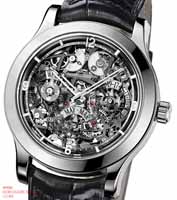 The Master Eight Days Perpetual SQ is distinguished by a range of such complicated indications, that simply arranging them on a normal dial represents an aesthetic feat in its own right.
The watch faces thus has to carry indications of the hours and minutes, the perpetual calendar (date, day of the week, month and year), the moon phases, the day/night display and the power reserve. In a skeletonised version, this challenge reaches dizzying heights of complexity, in that all the functions must be immediately readable without compromising the transparency of the whole, nor obstructing contemplation of the openworked movement.
The various functions are therefore displayed by transparent discs with transferred indications: numerals for the hours, minutes and date; letters for the day of the week and the month; and symbols for the moon phases and the day/night indication.
Apart from the power-reserve and moon-phase displays, on which the tip of the hand indicates the current position, all the other indications are carried by pivoting discs which provide an easy and immediate read-off of the corresponding value by a contrasting effect as they move over a lighter-coloured sector. The day/night indication also features a red security zone that warns the user not to make adjustments between 9 pm and 3 am so as to avoid damaging the perpetual calendar mechanism.
The extremely subtle and incredibly complex result bears the unmistakable hallmark of Jaeger-LeCoultre expertise.