eterna
---
Les nouveautés 2007 des montres Eterna
---
Eterna Vaughan Big Date
Avec sa Vaughan Big Date, Eterna revient à ses premiers amours et présente une montre avec son propre calibre. Le nouveau mouvement d'Eterna séduit dès le premier regard par une complication pour l'affichage de sa grande date.
Dans le domaine de l'horlogerie, on parle de "grand date" lorsque la date est indiquée par de larges chiffres sur deux disques distincts.
L'un correspond au chiffre des unités, l'autre, au chiffre des dizaines. La mise en oeuvre de deux disques permet d'employer des chiffres plus grands, pour une meilleure lisibilité de la date. Dans le cas de l'Eterna 3030, un disque externe affiche le chiffre des unités pour les jours du mois, tandis qu'un disque plus petit et légèrement décalé vers l'intérieur, fait défiler les quatre chiffres requis pour les dizaines.
Le calibre Eterna 3030 est bombé sur les deux faces, ce qui lui donne la forme de lentille. Les deux disques de la grande date se fondent parfaitement dans la surface bombée du mouvement. Ils ne sont pas constitués, comme c'est habituellement le cas, de deux disques plats superposés horizontalement, mais de deux bagues bombées qui tournent l'une à côté de l'autre.
La grande date d' Eterna Vaughan Big Date est un calendrier à correction rapide de la date. A minuit, il se met à jour en moins d'une seconde. Contrairement à la plupart des mouvements de montre traditionnels, le mécanisme autorise les manipulations de la montre et du calendrier pendant 24 heures.
Les impulsions pour la rotation de la roue des dizaines sont transmises directement par le disque des unités de la grande date. Afin de garantir la faible hauteur du mouvement, les techniciens de la manufacture Eterna ont développé un disque de date avec roulement à billes et denture intégrée.
La correction manuelle de la date s'effectue comme d'habitude à l'aide de la couronne. Une rotation à 360° entraîne une correction de la date de deux jours. Le réglage de la date est simple et rapide.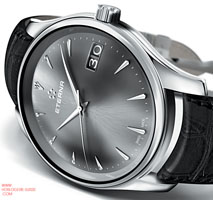 With the Eterna Vaughan Big Date, Eterna has returned to the old-fashioned virtues of watchmaking and produces a watch with an own manufacture calibre. The new Eterna movement provides the function of a unique big date display.
In big date display movements, the date is displayed in large numerals on two separate discs. For the dis-play of the date, one of the discs carries the units, while the other carries the tens. A two-disc system allows the use of larger numerals, thereby enhancing the legibility of the date.
In the case of the Eterna 3030, an outer disc carries the unit numbers for every day of the month. A small disc, arranged further inside, carries the four necessary digits for the tens display.
The Eterna calibre 3030 shows a convex profile on both sides, in the form of a lens. The two discs of the date display blend seamlessly into the cambered surface of the movement. They are designed, not as a conventional arrangement of two flat and horizontal discs posi-tioned one above the other, but as two cambered rings, which rotate next to each other.
The big date display of the Eterna Vaughan Big Date has a fast-acting calendar function, and will change at midnight within less than one second. In contrast with the majority of conventional movements, the switch mechanism allows both the time and date to be adjusted at any time.
The rotational impulse for the tens disc is generated directly by the units disc of the date display. In order to achieve a slim-line movement, the engineers at Eterna have developed a ball bearing-mounted date disc with integral gear toothing.
In accor-dance with conventional practice, the date is adjusted manually using the winding button. Rotating the crown through 360° will adjust the date by two days. Setting the date is both fast and straightforward.
Eterna Adelphi Automatic
L'Eterna Adelphi allie avec beaucoup de style surfaces rectangulaires et arêtes droites au coeur d'une douce voûte de verre saphir qui s'étend telle un arc au-dessus du cadran. La couronne d'Eterna et ses cannelures maniables ainsi que les cinq billes du symbole de la marque Eterna nichées, soulignent le mariage parfait des lignes et des courbes. L'Eterna Adelphi propose toutes les fonctions utiles à une montre élégante pour hommes dotée d'un mouvement mécanique automatique: l'affichage sans équivoque de la date et de l'heure.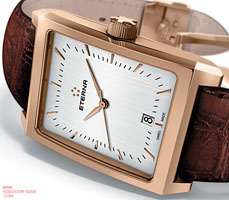 The Eterna Adelphi combines rectangular surfaces and straight edges in a self-confident style with the soft rounding of the sapphire watch glass, which arches itself over the watch face. The Eterna crown with the knurled flutings and the recess of the five spheres of the Eterna brand logo, underscores the interplay of straights and rounds.
The Eterna Adelphi with its automatic mechanical movement has all functions required of a gents' wrist-watch: the unmistakable dial with time and date displays. Appropriately and stylishly reduced in size, the dial is also presented in a strictly geometric design.
Eterna Madison Limited Edition
Le boîtier voûté en forme de tonneau de l'Eterna Madison Limited Edition renferme le nouveau calibre Eterna 3500. Ce mouvement est, après le calibre Eterna 3030, la seconde conception propre de l'histoire moderne d'Eterna.
Le mouvement avec seconde centrale et 28'800 semi-oscillations par heure se distingue par sa construction en pont particulièrement réussie. Le positionnement horizontal du balancier est une construction esthétique bien mise en valeur par le fond bombé en verre saphir de la montre.
Les roues de remontage du remontoir manuel sont sur roulement à billes. La réduction de la friction et la stabilité de cette construction novatrice sont tout à fait perceptibles lors du remontage de la montre.
La Eterna Madison Limited Edition est disponible en deux modèles, tous deux limités à 75 exemplaires.
Le mouvement du modèle en or blanc est doté de ponts et de platine rhodiés. Les ponts et le platine du mouvement du modèle en or rose sont dorés avec l'alliage de la boîte. Les deux mouvements sont ornés du poinçon de Genève.
The arched Tonneau case of the Eterna Madison Limited Edition conceals the new Eterna calibre 3500 Movement. Following the Eterna calibre 3030 movement, this mechanism is the second entire self devel-opment of the more recent Eterna history.
The form movement with central seconds and 28,800 semi-oscillations per hour is characterized by a particularly beautiful bridge construction. The centralization of the escapement is an extremely aesthetic construction, which is visually set off through the transparent sapphire glass back of the case.
The winding pinions of the manual winding device are equipped with ball bearings. The reduction in friction and the stability of this new type mechanism can be fully appreciated on winding up the watch.
The Eterna Madison Limited Edition is available in two variants, which are both limited to 75 pieces. The movement of the version in white gold is equipped with rhodanised bridges and a rhodanised sinker. In the rose gold case version, the bridges and the sinker of the movement have been gilded in the cases alloy. Both movements are decorated with Geneva type grinding.
Eterna Soleure Automatic
L' Eterna Soleure Automatic affiche, sur un grand cadran de 35 mm de diamètre, la date, les heures, les minutes et les secondes.
Le boîtier entièrement poli n'a pas une courbe ni une arête de trop. Les aiguilles Alpha sont longues et élégantes. La couronne cannelée d'Eterna et ses incrustations arrondies prononcées constituent un élément décoratif subtil du boîtier. La Soleure Automatic est disponible dans un boîtier en acier inoxydable ou en or rose. Le modèle en acier est proposé sur le marché doté d'un cadran blanc et d'index de chiffres romains ou d'un cadran noir avec index de chiffres arabes. Le boîtier en acier est combiné avec un bracelet en cuir de crocodile noir.
La variante en or rose comprend un cadran argenté avec index bâtons et est fournie avec un bracelet en cuir de crocodile brun.
The Eterna Soleure Automatic displays the hours, minutes and seconds on a generous dial of 35 mm diame-ter, being a reduction in size down to the pure essentials - a motto to be found otherwise generally throughout the overall image of these classical gents' wrist watches.
On the entirely polished cases, no covings and edgings are found wanting. The alpha hands are long and elegant. The Eterna crown with its knurled flutings and recess for the sphere logo represents a fine decorative element of the case. The Eterna Soleure Automatic is available in stainless steel- and rose gold cases.
The stainless steel versions come on the market with white dials with Roman numerals or with black dials with Arabic numerals. The stainless steel cases are combined with a black crocodile leather wrist strap.
The rose gold versions have a silvered dial and baton indices and are supplied with brown crocodile leather wrist strap.
Eterna Soleure Moonphase Chronograph
Outre l'heure, cette montre indique également la phase de Lune, la date actuelle et le jour. Une aiguille 24h dans le compteur à neuf heures indique le matin (AM) ou l'après-midi (PM). Une fonction de chronométrage est également intégrée. Une modification du mouvement (calibre ETA 7751) permet d'utiliser le chronographe non plus à l'aide de deux poussoirs, comme c'est le cas pour les modèles traditionnels, mais à l'aide d'un unique poussoir situé à deux heures.
Cette variante de chronographe tant technique qu'esthétique a été conçue par un talentueux horloger zurichois, Paul Gerber, et est à présent intégrée dans la nouvelle montre d'Eterna.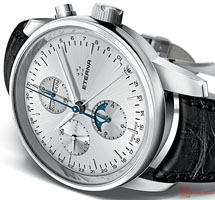 Apart from a time reading, the watch displays the phases of the moon month as well as the actual date and day of the week. A 24 hour display at nine o'clock indicates whether A.M. or P.M.. A stop function is also pro-vided.
An alteration in the movement (Calibre ETA 7751) enables the manipulation of the chronograph with one pusher at two o'clock instead of with two in conventional chronographs. This technical as well as visu-ally interesting variant of a chronograph was developed by the gifted Zurich watchmaker, Paul Gerber and is now used in Eterna watches.