Hexagon GMT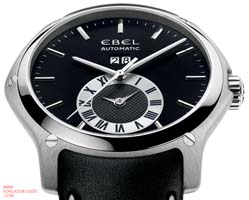 Ebel offre aux globe-trotters un modèle Ebel Classic Hexagon doté d'un mouvement GMT avec grande date. L'originalité de cette montre réside dans le compteur appliqué à la main à 6 heures, qui lui confère une touche irrésistible et résolument contemporaine.
Ebel offers globetrotters an Ebel Classic Hexagon equipped with a GMT movement complete with a large date display. Doubtless the most unusual feature of this model is the hand-applied subdial at 6 o'clock, lending an irresistible appeal to this decidedly contemporary timepiece
Hexagon Regulator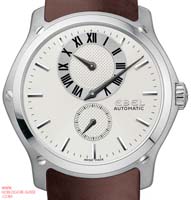 Sur la montre Ebel Classic Hexagon Regulator, les différents compteurs qui indiquent respectivement les heures, les minutes et les secondes confèrent à l'ensemble un aspect résolument moderne et superbement géométrique, accentué par la vaste ouverture du cadran et la forme hexagonale de la boîte.
On the Ebel Classic Hexagon Regulator watch, the separate dials displaying the hour, minute and seconds functions give this watch an extremely modern and fascinatingly geometrical design, effectively highlighted by the broad dial opening and reinforced by the hexagonal case.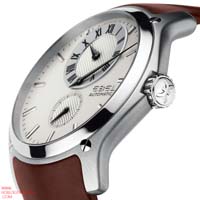 Mouvement :
• GMT : mouvement automatique GMT manufacturé en Suisse
• Regulateur : mouvement automatique regulateur manufacturé en Suisse
Boîte :
• Matériau : acier inoxydable • Diamètre : 45,44 mm • Finition : brossée et polie
• Étanchéité : 10 atm
• Glace : saphir avec traitement antit-reflet double face pour une lisibilité parfaite
Movement:
• GMT: Swiss automatic GMT movement
• Regulator: Swiss automatic movement with regulator
Case:
• Material: stainless steel
• Diameter: 45.44mm
• Finishing: alternating brushed/polished
• Water-resistance: 10 atm
• Crystal: sapphire with anti-reflective treatment on both sides for perfect readability
1911 Discovery
Water-resistant to 10 ATM, the 43 mm case houses an automatic chronograph movement powering the hour and minute hands, three hand-applied chronograph counters and ultra-readable date/day displays.
Protected by a sapphire crystal with anti-glare treatment on both sides that further enhances its sharp legibility, the dial exudes a decidedly sporty look with its eye-catching counter backgrounds, color-coded chronograph hands, sophisticated hand-applied hour-markers and aluminum tachometric scale on the surrounding bezel.
This dynamic aura is further reinforced by the screw-lock crown, together with the pushers with their sporty notched-profile guards, and by the Super-LumiNova coating on the distinctively shaped hour and minute hands as well as the 12 squares on the flange, applied to ensure optimal visibility in the dark.
So as to cater to a wide range of personal tastes, the new 1911 Discovery line encompasses five models: four in steel with a rubber or calfskin strap or a bracelet, and one in gold and steel on a bracelet only, while the elegant dials come in a choice of black with black counters or silver with slate grey counter rims.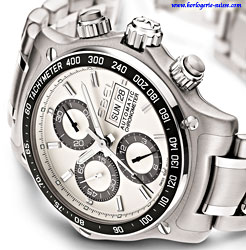 Étanche à 10 atm, le boîtier de 43 mm abrite un mouvement chronographe automatique qui actionne les aiguilles des heures et des minutes, trois compteurs chronographe appliqués à la main, ainsi qu'un dispositif d'affichage ultra-visible de la date et du jour.
Protégé par une glace saphir traitée antireflet des deux côtés afin d'améliorer la lisibilité, le cadran a des allures résolument sportives avec ses compteurs sophistiqués et sa graduation tachymétrique en aluminium sur la lunette. Ce dynamisme est renforcé par la présence d'une couronne vissée, agrémentée de poussoirs à protection crantée.
La touche finale, si distinctive, est apportée par le revêtement Super-LumiNova appliqué sur les aiguilles aux formes uniques, ainsi que sur les douze carrés délicatement apposés sur le rehaut pour une visibilité optimale dans l'obscurité.
Soucieuse de satisfaire tous les goûts personnels, la nouvelle ligne 1911 Discovery se décline en cinq modèles : quatre modèles en acier avec bracelet en caoutchouc ou en cuir et un modèle en or et acier au bracelet assorti. Les cadrans, quant à eux, sont disponibles soit en noir avec compteurs noirs, soit en argenté avec compteurs finement bordés de gris ardoise.
Mouvement :
• Day-Date – ETA 7750, mouvement chronographe automatique
• Certifié chronomètre (COSC)
1911 BTR Chronographe automatique animée par le Calibre 139 Ebel
Un an après le lancement remarqué de la collection 1911 BTR, Ebel enrichit sa ligne d'un quatrième mouvement automatique exclusif : le Calibre Ebel 139.
Dans la 1911 BTR Chronographe Automatique animée par le Calibre 139, les horlogers de la marque ont déplacé le compteur des minutes du chronographe traditionnellement positionné à 3 heures et l'ont transformé en une fenêtre à 120°, affichant une aiguille tripale. L'affichage devient ainsi bien plus lisible que le mode standard. Dès qu'un des bras de l'aiguille atteint 30 minutes, un autre apparaît au début de la fenêtre et reprend là où son prédécesseur a arrêté la lecture du temps.
L'affichage des heures du chronographe n'a rien à envier à son homologue des secondes : renonçant au format du compteur classique, il se présente sous la forme d'un disque gradué de 1 à 12 et tourne sous le cadran pour indiquer les heures au travers d'un guichet à 6 heures. Pendant ce temps, l'aiguille des secondes du chronographe reste à sa position centrale.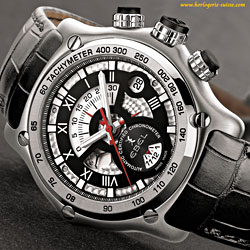 One year after the successful launch of the 1911 BTR, Ebel is enriching this line with a fourth automatic proprietary movement: Caliber 139.
In the 1911 BTR Automatic Chronograph driven by Caliber 139, the brand's watchmakers have moved the chronograph minute counter traditionally positioned at 3 o'clock and transformed it into a 120° register featuring a three-arm chronograph minute hand.
The resulting indication is infinitely more legible than the standard display mode. As soon as one arm has finished indicating 30 minutes, another appears at the start of the scale and takes up where the previous one left off. Not to be left behind, the chronograph hour display also offers a change from the usual counter format and appears instead on a disc graduated from 1 to 12 and which turns beneath the dial to show the hour in progress through an aperture at 6 o'clock. Meanwhile, the chronograph seconds hand retains its central position.