BLANCPAIN, SPONSOR OFFICIEL DU RALLYE
« PEKING TO PARIS» 2007
La course d'anciennes automobiles « Peking to Paris» est sans nul doute la plus exigeante de tous les marathons automobiles.
260 pilotes dans 130 voitures vintage parcourront plus de 12000 kilomètres d'un rallye des plus épiques.
Après la fameuse course « California Mille Miglia » et à quelques jours du départ du Rallye Alpin de Kitzbühel, Blancpain a l'insigne honneur d'être le sponsor exclusif de la ime édition du rallye « Peking to Paris ».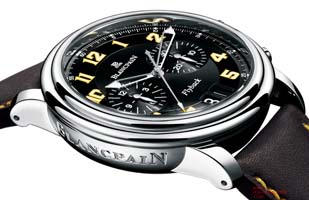 Débuté dimanche dernier au pied de la Grande Muraille de Chine, celui-ci s'achèvera triomphalement sur la Place Vendôme, à Paris le 30 juin prochain.
L'art horloger de Blancpain et les automobiles historiques ont beaucoup en commun: ils partagent la même quête incessante de perfection et le savoir-faire technique hérité d'une tradition ancestrale du travail à la main. Un même amour du challenge unit naturellement Blancpain à cette vénérable discipline.
Pour sceller cette union, la Manufacture du Brassus a réalisé une édition spéciale « Peking to Paris », inspirée du célèbre Léman Chronographe Flyback Grande Date.
Produite à 2x130 exemplaires, cette série limitée démontre pleinement le savoir-faire de Blancpain dans l'univers des chronographes haut-de-gamme.
The Peking to Paris classic car rally is the most grueling on earth. Run for the first time in 1907 when it was won by Prince Borghese, the Peking to Paris 2007 edition is only the third competition in the century that has passed. Its 5000 plus mile course is guaranteed to subject the 260 drivers and their 130 vintage automobiles to the most demanding of automobile marathon tests.
The rally departs from the Great Wall of China, passes Mongolia, the Steppes of Asia, Siberia, Moscow and on to Paris.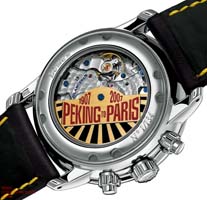 To further cement the bond between the world's oldest watch company and this venerable rally, Blancpain has conceived a special limited edition Peking to Paris Rally watch based upon the Léman Chronographe Flyback Grande Date. Limited to but 260 examples in stainless steel (two series of 130 watches), the Peking to Paris Rally Edition fully demonstrates Blancpain's chronograph savoir-faire.
Housed with its 40mm stainless steel case is Blancpain's thoroughly classic two buttons chronograph movement. Crafted entirely by hand by Blancpain's watchmakers in the Vallée de Joux, it features an unmatched combination of design elements, including column wheel control of the chronograph (to ensure supple action of the chronograph buttons), vertical clutch actuation of the chronograph itself (producing an unrivaled smooth jump free starting and stopping of the chronograph seconds hand) and a flyback feature (allowing instant stopping of the chronograph, return to zero and restart, all with the push of one button).
In addition to the chronograph itself, these special edition watches are equipped with Blancpain's exclusive big date feature that not only increases legibility over standard size date displays, but changes instantly at midnight.
Each of the movement's 382 parts is hand polished and finished by Blancpain's watchmakers.
BLANCPAIN LANCE UNE NOUVELLE COLLECTION FIFTY FATHOMS
Aujourd'hui, Blancpain offre un nouveau souffle à la Fifty Fathoms en créant une véritable collection qui comprend, outre le modèle Automatique, une version Chronographe Flyback ainsi qu'un fascinant Tourbillon volant.
FIFTY FATHOMS AUTOMATIQUE
Proposée en versions acier ou or rouge, la Fifty Fathoms Automatique accueille un tout nouveau mouvement mécanique entièrement développé par Blancpain et exclusif à la marque.
Le Calibre 1315 automatique est dérivé du Calibre 13R0 à remontage manuel, présenté en octobre 2006. Fruit d'une longue quête de simplicité, de précision et de performances, il a été conçu dès l'abord pour équiper des montres à vocation résolument sportive.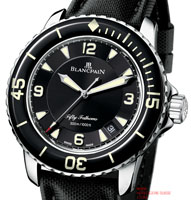 Blancpain l'a doté d'un rotor bimétallique très dense qui assure une grande efficacité de remontage. Pour le reste, ce mouvement intègre la plupart des caractéristiques qui faisaient déjà du 13R0 un calibre d'exception, notamment son balancier sans raquette ni col-de-cygne, mais doté de vis réglantes placées sur la serge.
Ce système de vis s'avère idéal pour une montre sportive: il évite qu'un choc ne modifie la position de la raquette ou du col-de-cygne, altérant la marche de la montre. Pour garantir la précision et l'efficacité du réglage, Blancpain a doté les vis micrométriques en or de têtes carrées; l'horloger peut ainsi visualiser plus aisément les corrections qu'il effectue. Par souci de robustesse, le balancier est en glucydur, plus lourd que le titane utilisé dans le 13R0. Les constructeurs de Blancpain se sont également efforcés de trouver les solutions les plus performantes au niveau du stockage de l'énergie. Il s'agissait notamment de donner au mouvement une autonomie de marche optimale, tout en garantissant à tout moment une énergie constante.
Le nouveau calibre 1315 possède une réserve de marche exceptionnelle d'environ 6 jours. Pour relever ce défi, Blancpain l'a doté de trois barillets montés en série.
En raison du choix d'un balancier en glucydur, les trois ressorts moteurs ont été recalibrés pour ce mouvement. Autre perfectionnement technique: le calibre 1315 intègre un affichage du quantième permettant le changement rapide de la date à minuit dans un sens comme dans l'autre.
Available in steel or red gold versions, the Fifty Fathoms Automatic houses an all-new mechanical movement entirely developed by Blancpain and exclusive to the brand.
The selfwinding Calibre 1315 is derived from the hand-wound Calibre 13R0 presented in October 2006. Stemming from a lengthy quest for simplicity, precision and performance, it was conceived right from the outset to equip watches with a resolutely sporting vocation.
Blancpain has fitted it with an extremely dense bimetallic rotor ensuring excellent winding efficiency. In addition, this movement features most of the characteristics that made the 13R0 such a truly exceptional calibre, including its free-sprung balance with no index and no swan's neck, equipped instead with regulating screws placed around the rim of the balance.
This screw-based system proves ideal for a sporty watch, since it avoids the potentially detrimental effect of shocks that could modify the position of the index or the swan's neck, thereby disturbing the rate. To accurate and efficient adjustment, Blancpain has equipped it with square-headed gold micrometrical screws, enabling the watchmaker to easily visualise the corrections he is making.
Governed by a concern for optimal sturdiness, the balance is crafted from glucydur, which is heavier than the titanium used in the 13R0. The Blancpain movement design engineers have also sought to find the most effective solutions in terms of energy storage. The goal in particular was to endow the watch with an optimal autonomy, while ensuring constant energy at all times.
The new Calibre 1315 does indeed have an exceptional power reserve equivalent to approximately 6 days. To achieve this feat, Blancpain has equipped it with three series-coupled barrels. Due to the choice of a glucydur balance, the three mainsprings have been specifically readjusted for this movement.
Another technical refinement lies in the date display on Calibre 1315, enabling fast datechange at midnight in either direction.
FIFTY FATHOMS CHRONOGRAPHE FLYBACK
Blancpain innove en déclinant la Fifty Fathoms en version chronographe. Ce choix ravira les professionnels de la plongée, mais aussi tous les adeptes des sports nautiques et aquatiques. Il a exigé des prouesses en matière de construction, notamment au niveau des poussoirs.
La plupart des chronographes ne peuvent être activés pendant la plongée. Grâce à un système de joints spéciaux dissimulés dans le boîtier, Blancpain est parvenue à rendre les poussoirs parfaitement étanches et fonctionnels jusqu'à 300 mètres de profondeur.
La Fifty Fathoms Chronographe Flyback peut donc être réellement utilisée dans l'élément marin ou lacustre, et pas uniquement à l'air libre. Raffinement supplémentaire: le chronographe est doté d'une fonction flyback, l'une des spécialités de Blancpain.
La Manufacture n'a-t-elle pas présenté en 1997 le tout premier Chronographe Flyback pour dames? Ce système sophistiqué permet de redémarrer instantanément un nouveau chronométrage en appuyant sur le poussoir à 4h, sans devoir préalablement stopper et remettre les aiguilles à zéro.
Les affichages des petits compteurs des minutes et des heures se lisent clairement grâce au contraste blanc sur noir. Le mouvement automatique est protégé des champs magnétiques par une cage.
La Fifty Fathoms Chronographe Flyback est dotée d'un robuste boîtier taillé dans l'acier.
Elle est également proposée dans une version en or où le noir profond du cadran, de la lunette et du bracelet s'allie en beauté à la teinte chaude de l'or rouge 18 carats.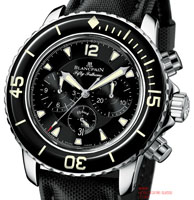 Blancpain innovates by interpreting the Fifty Fathoms in a chronograph version. This choice will delight professional divers, as well as all nautical and water sports enthusiasts. It called for some impressive feats in terms of its construction, particularly with regard to the pushers.
Most chronographs cannot be handled while diving, but thanks to a system of special joints concealed within the case, Blancpain has succeeded in making the push-buttons perfectly water-resistant and operational at depths of 300 metres.
The Fifty Fathoms Chronographe Flyback can thus truly be used in oceans or lakes, and not only above water level. Representing another refined technical feature, the chronograph is endowed with a flyback function – one of Blancpain's specialities, as confirmed by the 1997 launch of the very first ladies' Flyback Chronograph. This sophisticated system enables instant restart of a new timing operation by pressing the push-button at 4 o'clock, without needing to first stop and reset the hands.
The small hour and minute counters are easily legible thanks to the contrast of white indications against a black background. The self-winding movement is protected from magnetic fields by a dedicated cage.
The Fifty Fathoms Chronographe Flyback is fitted with a rugged case carved from steel. It is also available in a gold version in which the deep black of the dial, bezel and strap make a wonderful match for the warm shade of 18-carat red gold.
FIFTY FATHOMS TOURBILLON
Blancpain couronne la nouvelle collection Fifty Fathoms avec un modèle Tourbillon décliné en or rouge ou or blanc. Une démonstration éblouissante de son savoir-faire en matière de complications.
La Manufacture a choisi pour cela une autre de ses spécialités, le tourbillon «volant», où la petite cage tournant sur elle-même en une minute n'est montée que d'un seul côté, sans pont de support, et semble flotter dans l'espace. En 1989, Blancpain a présenté le tourbillon volant le plus plat au monde.
Sur la Fifty Fathoms, cette construction virtuose et aérienne est mise en valeur par une grande ouverture ronde à 12h; elle prend un aspect particulièrement spectaculaire sur le fond noir du cadran, en offrant un contraste inédit avec le style sportif des index, des aiguilles et de la lunette.
La Fifty Fathoms Tourbillon est le seul modèle de la nouvelle collection équipé d'un fond saphir; ce coup d'oeil sur l'exploit laisse admirer toute la beauté et la complexité de son mouvement composé de 234 pièces – sans compromettre son étanchéité à 300 mètres.
Le calibre automatique avec tourbillon volant et réserve de marche de 8 jours présente des finitions dignes de la grande tradition horlogère; il est doté d'une masse oscillante dessinée spécialement pour ce modèle.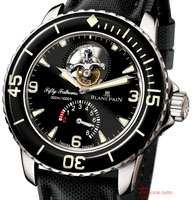 Blancpain sets the crowning touch to the Fifty Fathoms collection with a Tourbillon model crafted in red gold or white gold, offering a dazzling demonstration of its know-how in terms of horological complications.
In doing so, the Manufacture has chosen another of its specialities, the "flying" tourbillon, in which the tiny carriage spinning on its axis once a minute is mounted on a single side, without any supporting bridge, and thus appears to be floating in space. In 1989, Blancpain presented the world's thinnest flying tourbillon.
Now, on the Fifty Fathoms, this brilliantly designed and ethereal construction is highlighted by a large round opening at 12 o'clock and is set off to spectacular effect against the black dial base, thus creating an original contrast with the sporting style of the hour-markers, the hands and the bezel. The Fifty Fathoms Tourbillon is the only model in the new collection equipped with a sapphire case-back; and the vision thus provided of the horological accomplishment within enables one to admire the beauty and complexity of its 234-part movement without jeopardizing its water resistance to 300 metres.
The self-winding calibre with flying tourbillon regulator and 8-day power reserve features finishing details worthy of the noblest watchmaking traditions and is fitted with an oscillating weight specially designed for this model.
LÉMAN TIME ZONE
Bonne nouvelle pour les férus de voyages et tous ceux qui font la Grande Traversée des méridiens à longueur d'années: la collection Léman accueille un garde-temps aux dimensions contemporaines, avec indication d'un second fuseau horaire.
Au coeur de cette pièce s'animent les 253 composants du Calibre Blancpain 5L60, un mouvement mécanique à remontage automatique disposant de 100 heures de réserve de marche.
Outre les indications heures, minutes, petite seconde à 6h et date à guichet à 3h, il propose l'affichage du second fuseau horaire à 12h et l'indication jour/nuit gravées sur un disque à 9h. Assemblé et décoré à la main dans les ateliers de la Manufacture du Brassus, le Calibre 5L60 rhodié se singularise par ses finitions soignées visibles à travers le fond saphir du boîtier: décors Côtes de Genève, ponts anglés, vis bleuies et masse oscillante gravée d'un «Blancpain» bleu. La nouvelle Léman Time Zone est dotée d'un boîtier en acier de 40 mm de diamètre, avec glace saphir, couronne et fond vissés pour une étanchéité garantie à 100 mètres.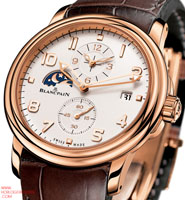 At the heart of this model beats a 253-part mechanical self-winding movement, Blancpain Calibre 5L60, endowed with a 100-hour power reserve. In addition to indicating the hours, minutes, small seconds at 6 o'clock and date through a window at 3 o'clock, it also displays a second time zone at 12 o'clock, complete with a day/night indication engraved on a disc at 9 o'clock.
Assembled and decorated by hand in the workshops of the Manufacture in Le Brassus, the rhodium-plated Calibre 5L60 is distinguished by the meticulous finishing visible through the sapphire crystal case-back: Côtes de Genève motif, bevelled bridges, blued screws and an oscillating weight carrying the Blancpain name in blue.
The new Léman Time Zone is equipped with a steel case measuring 40 mm in diameter, fitted with a sapphire crystal, screw-locked crown and screw-down case, together guaranteeing water resistance to a depth of 100 metres.
BLANCPAIN WOMEN TIME ZONE
Les trois versions du modèle BLANCPAIN WOMEN Time Zone révèlent la pluralité d'un univers à explorer. Etanche à 100 mètres, rehaussé d'un verre saphir anti-reflet, son boîtier en acier de 34 mm de diamètre abrite le Calibre 5L60, un mouvement automatique disposant de 100 heures de réserve de marche.
Le fond saphir offre au regard les décorations du mouvement, entièrement réalisées à la main dans la plus grande tradition de la Haute Horlogerie. Si le double fuseau horaire à 12h et son indication jour/nuit à aiguille tiennent la vedette de cette mécanique complexe composée de 253 pièces, elles laissent une place de choix à la petite seconde à 6h et à la date à guichet.
Les index romains élancés s'inscrivent sur un cadran laqué, orné d'un élégant guilloché soleil. Une minuterie centrale ovale et des aiguilles feuilles luminescentes aux formes déliées parachèvent le design résolument contemporain de ce visage gracieux.
L'heureuse détentrice de la nouvelle Time Zone ne manquera pas d'admirer les subtiles gravures de l'indication jour/nuit, parée d'un soleil et d'un croissant de lune entouré de délicates étoiles.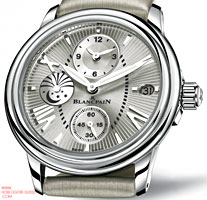 The three versions of the BLANCPAIN WOMEN Time Zone model reveal the pluralistic, multifaceted nature of a world waiting to be explored. Water-resistant to 100 metres and topped by a glare-proofed sapphire crystal, its 34 mm-diameter steel case houses Calibre 5L60, a selfwinding movement with a 100-hour power reserve.
The sapphire crystal case-back reveals the movement decorations, entirely crafted by hand in keeping with the noblest traditions of Haute Horlogerie. While the dual time zone display at 12 o'clock and its pointer-type day/night indication are the star features of this complex mechanism composed of 253 parts, they nonetheless leave generous space for the small seconds at 6 o'clock and the date window. The streamlined Roman numerals are arranged around a lacquered dial adorned with an elegant sunburst guilloché pattern.
An oval central minute circle and slender luminescent leaf hands enhance the resolutely contemporary nature of this graceful dial. The fortunate owner of the new Time Zone will doubtless revel in admiring the subtle engravings of the day/night indication, adorned with a sun and a moon crescent surrounded by tiny stars.
LEMAN REPETITION MINUTES AQUA LUNG
Fidèle à sa longue tradition d'innovation, la Manufacture du Brassus présente un système révolutionnaire de boîtier étanche pour sa Répétition Minutes.
Il aura fallu beaucoup de savoir-faire et d'ingéniosité pour concevoir un mécanisme qui sonne à la demande, les heures et les quarts et les minutes - le tout jusqu'à 100 mètres de profondeur, sans qu'une seule goutte d'eau ne vienne compromettre le complexe fonctionnement du mouvement à répétition minutes le plus plat et le plus petit en diamètre au monde ! Cette innovation fait naturellement l'objet d'un brevet
Grâce à l'ingéniosité et à l'esprit novateur de Blancpain, le privilégié détenteur d'une Répétitions Minutes pourra désormais barboter montre au poignet. Comment un tel prodige est-il possible ?
Le principe paraît simple, mais il fallait y songer. Sur une montre à répétitions minutes « classique », le verrou extérieur qui actionne le mécanisme de sonnerie est directement relié au levier d'armage. Lorsqu'il est armé, le verrou dévoile une ouverture sur la carrure de la boîte, exposant ainsi le mouvement à d'inévitables infiltrations d'eau.
Cette vulnérabilité fait désormais partie du passé ! Blancpain y a remédié en mettant au point un ingénieux système d'engrenage, qui relie le verrou extérieur et le levier d'armage par l'intermédiaire de deux crémaillères et d'un axe de transmission, lui-même composé de deux renvois et agrémenté de deux joints « O-Ring » qui assurent l'étanchéité du système.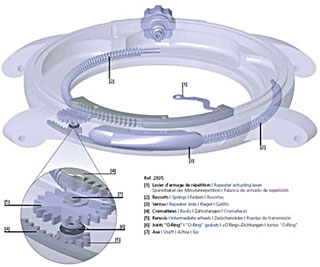 Faithful to its longstanding tradition of innovation, the Manufacture in Le Brassus presents a revolutionary water-tight case for its Minute Repeater. A wealth of know-how and ingenuity have been poured into devising a mechanism that strikes the hours, quarters and minutes on request – and all the while ensuring it is water-resistant to a depth of 100 metres and that not even a single drop of water will disturb the complex operation of the world's thinnest and smallest-diameter minute repeater movement. A patent has naturally been filed for this innovation.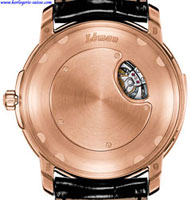 The new water-tight Léman Aqua Lung Minute Repeater (ref. 2835) combines fascinating auditory pleasures with inventive technical solutions. Topped by a sapphire crystal that is
glareproofed on either side, its 40mm-diameter case comes in titanium or 5N red gold – both materials featuring exceptional acoustic properties. It houses Calibre 351, a self-winding
movement comprising 360 parts entirely decorated and adjusted by hand. Radiating the understated elegance of true refinement, the matt black dial displays the hours, minutes and
this prestigious signature: "Blancpain Répétition Minutes" – "Pièce unique". Truly unique by definition, the new Léman Aqua Lung Minute Repeater is fitted with a solid case-back that
may be customised according to the owner's wishes. The hand-sewn crocodile leather strap lined with alzavel is fitted with a new folding clasp system composed of two folding blades.
When open, the latter reveal Blancpain's engraved "JB" logo.
BLANCPAIN WOMEN ULTRA-SLIM LOTUS
220 of the purest diamonds set fire to a black dial adorned with an exquisite sunray guilloché motif. Large original and exclusive slender Arabic numerals enhance the daring face of this ultra-feminine mechanical jewellery-watch.
Testifying to the extreme care lavished on details, the numerals in the date window pick up the same design. Two rows of diamonds on the traditional double stepped bezel illuminate the 34mm-diameter white gold case and make a subtle foil for the elegant black satin strap fitted with a comfortable and refined folding clasp.
The remarkable Blancpain Calibre 1150 marks the gentle cadence of time in this "Lotus" jewellery model. This mechanical self-winding movement drives the central hour, minute and seconds hands, as well as the date appearing through a window at 6 o'clock. Visible through the sapphire crystal case-back, the 188 parts composing this calibre feature meticulous decorative finishing including Côtes de Genève, stippling, bevelling, polishing and engraving. As indeed on all Blancpain movements, these operations are entirely performed by hand in accordance with the finest traditions of horological excellence.
220 diamants de la plus grande pureté enflamment un cadran noir rehaussé d'un fin guilloché soleil.
De grands indexes arabes élancés inédits et exclusifs rythment le visage audacieux de cette pièce de joaillerie mécanique féminine.
Témoignage d'un soin extrême accordé aux détails, les chiffres de la date à guichet reprennent le même design. Deux rangs de diamants
sur la traditionnelle lunette « double pomme » illuminent le boîtier or blanc de 34 mm de diamètre et s'harmonisent subtilement avec un élégant bracelet en satin noir, doté d'une
boucle déployante confortable et raffinée.
Le remarquable Calibre Blancpain 1150 rythme le temps de ce modèle « Lotus » joaillerie.
Ce mouvement mécanique à remontage automatique propose les indications heures, minutes, seconde au centre et date à guichet à 6h.
Visibles à travers un fond saphir, les 188 composants de ce calibre Blancpain présentent des décorations soignées - « Côtes de Genève », perlage, anglage, polissage et gravures - entièrement réalisées à la main, à l'instar de tous les
mouvements Blancpain, dans la plus pure tradition de l'excellence horlogère.