MARK VI COMPLICATIONS 29
Le design Mark VI de la ligne Breitling for Bentley est un hommage à l'esprit de tradition de la marque britannique. Sur ce même thème, Breitling a réalisé un garde-temps dont la complexité mécanique couronne plusieurs siècles d'un précieux savoir-faire horloger.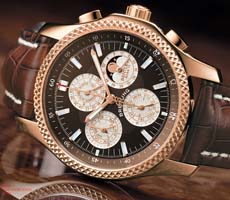 La nouvelle Mark VI Complications 29 est une merveille de miniaturisation que seuls quelques maîtres-horlogers sont encore capables de réaliser. Constitué de près de 500 pièces, ce chronographe à quantième perpétuel est programmé pour indiquer la date, le jour, la semaine, le mois, la saison et les phases de lune, en tenant compte des variations dues aux années bissextiles.
Pas moins de treize aiguilles sont nécessaires pour afficher ces données, et ce avec une extrême précision, puisque cet assemblage mécanique très complexe est certifié par le Contrôle officiel suisse des chronomètres.
Noblesse oblige, la Mark VI Complications 29 est manufacturée exclusivement en or rose et en platine, dans deux séries limitées respectivement à 250 et 100 exemplaires.
The Mark VI design of the Breitling for Bentley line pays homage to the spirit of the British brand's tradition. Representing a variation on this same theme, Breitling has created a timepiece endowed with a mechanical complexity embodying several centuries of precious horological expertise.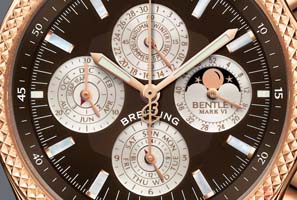 The new Mark VI Complications 29 is a marvel of miniaturization such as only a few master watchmakers are still capable of creating. This chronograph consists of nearly 500 parts. It has a perpetual calendar programmed to display the date, day, week, month, season and phases of the moon, taking account of leap-year variations.
No less than thirteen hands are required to display this information, a task they perform with extreme accuracy, as this highly complex mechanical assembly is certified by the Swiss Official Chronometer Testing Institute.
In keeping with the noble character of this watch, the Mark VI Complications 29 is being issued exclusively in rose gold and platinum, in limited editions of 250 and 100 respectively.
Montbrillant Légende
Dernier-né de la ligne Navitimer, le nouveau chronographe Montbrillant Légende est également le plus grand modèle de cette collection emblématique.
Avec un diamètre de 47 mm, son gabarit se veut même imposant. Mais ce n'est pas la seule particularité de son design.
En intégrant le bracelet au boîtier, Breitling a donné à cette pièce des lignes fluides et équilibrées qui soulignent encore davantage son caractère unique. Dans le choix des finitions, la Montbrillant Légende renforce également sa singularité en offrant – outre la version en acier – une version en acier et or rose sur laquelle couronne, poussoirs et lunette sont façonnés dans ce métal précieux.
Fidèle à l'esprit de l'aéronautique si cher à Breitling, la Montbrillant Légende est équipée non seulement de la célèbre règle à calcul circulaire, mais aussi – au dos de la montre – d'une échelle de conversion des principaux poids et mesures utilisés en aviation.
Le style et la configuration du cadran sont résolument inspirés des années 40.
A l'image des aiguilles ou du traditionnel centième d'heure au centre. Sans oublier les compteurs horizontaux à 9h et 3h, hérités du calibre Breitling 23, le mécanisme qui motorise cette Navitimer de tous les superlatifs.
As the latest addition to the Navitimer line, the new Montbrillant Légende chronograph is also the largest in this emblematic collection, with an imposing stature of 47 mm.
But that is certainly not the only special feature of its design. By smoothly integrating the case and bracelet, Breitling has endowed this model with flowing, balanced lines that further emphasize its unique character.
In terms of the choice of finish, Montbrillant Légende also reinforces its singularity by offering – in addition to the steel version – a steel and rose gold version in which the crown, pushpieces and bezel are all crafted in this precious metal.
Faithful to the aeronautical spirit cherished by Breitling, the Montbrillant Légende is equipped not only with the famous circular slide rule, but also on its caseback with a conversion scale for the main aviation weights and measures.
The styling and layout of the dial are resolutely inspired by the 1940s. The same goes for the hands, the traditional central 1/100th of an hour indication, as well as the horizontal totalizers at 9 and 3 o'clock characteristic of Breitling Caliber 23, the mechanism driving this superlative Navitimer.
FLYING B CHRONOGRAPH
Dotée de deux poussoirs à bascule s'intégrant parfaitement dans la découpe et le profil cambré du boîtier, la Flying B Chronograph s'affirme comme un superbe instrument de mesure du temps.
Avec sa géométrie originale et dynamique, le cadran s'inscrit lui aussi sous le signe du raffinement. Les trois compteurs en creux – 30 minutes, 12 heures et petite seconde – créent un beau jeu de profondeur; leur forme en rectangle adouci fait subtilement écho aux lignes du boîtier.
L'heure et la minute ainsi que la seconde du chronographe s'affichent en toute clarté grâce aux grandes aiguilles et au «chemin de fer» courant entre le relief moleté et les index de nacre. Fidèle à l'esprit de la ligne Breitling for Bentley, la Flying B Chronograph possède une mécanisation d'exception.
Le Calibre Breitling 44B à remontage automatique est équipé d'un calendrier à grands guichets avec deux indicateurs distincts, l'un pour les dizaines, l'autre pour les unités. Alliant tradition et performances, il affiche une fiabilité et une précision hors pair – comme l'atteste son titre très convoité de chronomètre certifié par le COSC (Contrôle officiel suisse des chronomètres). La Flying B Chronograph est manufacturée en acier, en or rouge ou en or blanc.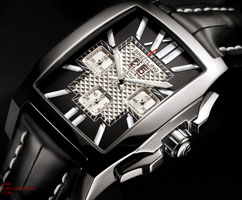 Enhanced by two lever pushpieces smoothly integrated with the cambered profile of the case, the Flying B Chronograph is a generous, sophisticated creation that asserts its presence as a superb time-measuring instrument.
The original and dynamic geometrical dial layout further enhances the refined aura of this model. The three hollowed 30-minute, 12-hour and small seconds counters create an appealing depth effect, while their softened rectangular shape subtly echoes the lines of the case.
The chronograph hour, minute and seconds indications are clearly visible thanks to the large hands and the graduated "track" running between the knurled central motif and the mother-of-pearl hour-markers.
True to the spirit of the Breitling for Bentley collection, the Flying B Chronograph is powered by an exceptional motor. Selfwinding Breitling Calibre 44B is equipped with a large calendar display with two separate apertures, one for the tens and the other for the units. Offering a blend of tradition and performances, it demonstrates peerless accuracy and reliability – as confirmed by its much-coveted status as a chronometer duly certified by the COSC (Swiss Official Chronometer Testing Institute).The Flying B Chronograph is crafted in steel, red gold or white gold.
FLYING B N° 3
Déclinée dans des dimensions légèrement plus petites, la Flying B N° 3 conserve l'élégance, l'audace et l'harmonie du boîtier rectangulaire Flying B. Mais elle présente un tout autre visage grâce à son cadran entièrement redessiné. Un fleuron d'art et d'artisanat, mis en valeur par un verre saphir finement biseauté et doté d'un traitement antireflet sur les deux faces. Les index horaires et le chiffre XII sertis de nacre forment un beau décor rayonnant autour du centre moleté. Les deux grandes aiguilles rythment les heures et les minutes avec panache. La seconde mène sa ronde dans un petit cadran carré en creux. La date s'affiche de manière très lisible dans un calendrier à double guichet, finement découpé dans l'épaisseur du cadran. Au coeur de ce joyau d'équilibre et de raffinement bat le nouveau Calibre Breitling 16B, un moteur accompagné par un certificat officiel de chronomètre du COSC – comme tous les mouvements sortant des ateliers Breitling. La Flying B N° 3 est disponible en acier ainsi qu'en or rouge et en or blanc.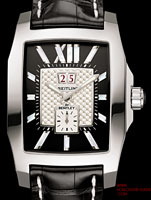 While presented in a slightly smaller size, the Flying B N°3 features all the harmonious elegance and daring of the rectangular Flying B case. However, it shows a completely difference face thanks to an entirely redesigned dial.
This epitome of art and fine craftsmanship is protected and highlighted by a finely bevelled sapphire crystal that is glareproofed on both sides.The hour-markers and the Roman numeral XII with their mother-of-pearl inlays provide a radiant surround for the knurled central motif.
The two large hands mark off the hours and minutes with considerable panache. The small seconds hand sweeps around a hollowed square subdial, while the date is clearly visible in a finely cut-out double-date calendar. At the heart of this paragon of balance and refinement beats the new Breitling Calibre 16B, accompanied by an official COSC chronometer-rating certificate, like all movements emerging from the Breitling workshops.
The Flying B N°3 is available in steel as well as in red or white gold.
Superocean Héritage
En 1957, Breitling, déjà maître des airs, part à la conquête des profondeurs marines en lançant la Superocean, une montre de plongée avec boîtier monocoque et verre blindé garantissant une étanchéité à 200 mètres – ce qui représente à l'époque un exploit technique hors norme.
Créée pour équiper les plongeurs professionnels et militaires, notamment les troupes spéciales, la Superocean séduira très vite les adeptes de la plongée de loisir, une activité en plein essor. Au fil des ans, Breitling enrichira cette ligne de légende en développant des modèles toujours plus performants, en versions simples ou chronographes, avec des étanchéités allant jusqu'à 500, 1500 et même 2000 mètres de profondeur.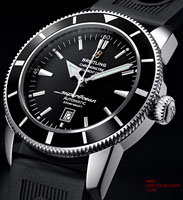 La nouvelle Superocean Héritage est proposée en deux diamètres: 38 et 46 mm.
Etanche à 200 mètres, elle présente toute la robustesse, la fonctionnalité et la fiabilité d'une montre taillée pour l'exploit en eaux profondes.
La grande taille des aiguilles ainsi que la forme triangulaire de l'aiguille des heures garantissent une lecture du temps sans équivoque même dans des conditions difficiles.
Le revêtement luminescent des aiguilles et des index assure une excellente visibilité dans l'obscurité des grands fonds. Le verre saphir légèrement bombé a été traité antireflet sur les deux faces.
La lunette tournante unidirectionnelle est dotée d'un système à 120 dents; son relief cannelé garantit un maniement aisé – tout comme celui de la couronne surdimensionnée.
La Superocean est dotée d'un mouvement mécanique automatique certifié chronomètre par le COSC – comme tous les mouvements Breitling.
In 1957, having already established its mastery of the skies, Breitling set off to conquer the maritime depths by launching the Superocean, a diver's watch featuring a monohull case and armored glass guaranteeing water resistance to 200 meters (660 feet) and representing an exceptional technical feat at that time.
Designed to equip professional and military divers, and particularly special troops, the Superocean soon gained a following among enthusiasts of leisure diving, an increasingly popular activity. Over the years, Breitling has enriched this legendary line by developing ever more efficient models in simple and chronograph versions, boasting water resistance to depths of 500, 1,500 and even 2,000 meters.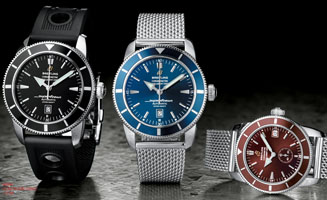 The new Superocean Héritage comes in two diameters: 38 and 46 mm. Waterresistant to 660 feet (200 meters), it boasts the full measure of sturdiness, reliability and functionality required of a watch cut out for adventure in deep waters.
The large size of the hands and the triangular shape of the hour hand guarantee unequivocal time reading even under difficult conditions.
The luminescent coating on the hand and hour-markers ensures excellent visibility even in the dim light at great depths. The slightly cambered sapphire crystal has been glareproofed on both sides.
The unidirectional rotating bezel is endowed with a 120-tooth system; its fluted profile, along with that of the oversized crown, guarantee easy handling.
The Superocean is powered by a mechanical selfwinding movement chronometer-certified by the COSC, as indeed are all Breitling movements.