INSTRUMENT BR 02 - 1000 M
Conçue pour des professionnels qui exigent des outils d'une fiabilité optimale, la collection INSTRUMENT BR02 répond à deux principes fondamentaux : lisibilité et étanchéité.
- Lisibilité : Pour répondre aux conditions extrêmes de la plongée sous-marine, la montre BR 02 est équipée d'aiguilles larges et d'index photoluminescents qui facilitent la lecture dans l'obscurité des grandes profondeurs. La lunette unidirectionnelle intérieure et sa graduation 60 mn marquée par un index photoluminescent offrent également une lecture optimale des temps d'immersion.
- Etanchéité : Avec une étanchéité garantie à 1000 M, L'INSTRUMENT BR 02 résiste à des pressions extrêmes supérieures aux normes établies par l'Industrie Horlogère Suisse. Lors des plongées de grande profondeur, sa valve de décompression permet d'équilibrer la pression intérieure du boîtier avec la pression extérieure. L'ergonomie de la boîte, la souplesse et l'adaptabilité du bracelet offrent un confort optimal.
Mouvement : mécanique automatique.
Fonctions : heures, minutes, secondes, date.
Boîtier : diamètre 44 mm. Acier 316 L poli-satiné.
Couronnes vissées. Valve de décompression pour plongée de grande profondeur.
Cadrans : noir. Chiffres, index et aiguilles recouverts d'un revêtement photoluminescent pour optimiser la lecture de nuit.
Version Pro dial : cadran noir avec index photoluminescents de grande dimension.
Lunette : intérieure unidirectionnelle crantée et graduée 60 mn avec point de repère photoluminescent.
Verre : saphir antireflet.
Etanchéité : 1 000 mètres.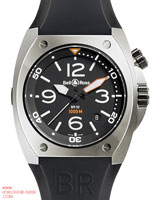 Designed for professionals who require tools with optimum reliability, the BR02 INSTRUMENT collection satisfies two basic principles: readability and water resistance.
- Readability: To satisfy the extreme conditions of deep-sea diving, the BR02 watch is fitted with photoluminescent large hands and index to make it easier to read in the deepest and darkest depths. The unidirectional inside bezel graduated to 60 mn and marked by a photoluminescent index also provides optimum reading when submerged.
- Water resistance: Guaranteed water-resistant to 1,000 M, the BR02 INSTRUMENT can resist extreme pressure levels higher than the standards set by the Swiss Watchmaking Industry. During deep sea diving, its decompression valve balances the pressure inside the case with exterior pressure.
The BR 02 INSTRUMENT also provides an optimum comfort. Thanks to the ergonomics of its case and the flexibility and adaptability of the strap.
Movement: mechanical automatic.
Functions: hours, minutes, seconds and date.
Case: 44 mm diameter. Satin-polished stainless steel 316 L. Screw-in crowns.
Decompression valve for deep sea diving. Dials: black. Numbers, index and hands covered in photoluminescent coating to optimise night reading.
Pro dial version: black dial with large photoluminescent index. Bezel: Unidirectional, cranted interior bezel graduated to 60 mn with photoluminescent reference point.
Crystal: anti-reflection sapphire.
Water resistance: 1000 m.
Strap: rubber or heavy-duty synthetic fabric.
INSTRUMENT BR 01 TOURBILLON
Fidèle aux principes de conception de la marque, la BR 01 TOURBILLON intègre 4 complications complémentaires : un Tourbillon, un Indicateur de précision, un Régulateur, un Indicateur de réserve de marche.
Un mécanisme à grande complication avec ponts et platines en fibre de carbone et un Tourbillon finition or noir, pour une précision extrême dans une totale discrétion.
Un « Trust Index » : Indicateur de la précision optimale du mouvement en fonction de la tension du barillet.
Le Régulateur dissocie les indications horaires avec un compteur pour l'heure et une aiguille centrale pour les minutes.
Les concepteurs Bell & Ross ont privilégié cette mise en avant des minutes pour une lecture rapide et précise des temps courts.
Indicateur de réserve de marche de 120 h.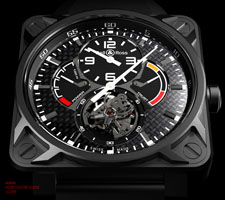 L'utilisation de matériaux de haute technologie : le titane revêtement DLC (Diamond Like Carbon) ultra-léger et très résistant à environ 4 000 Vickers (HV) pour la boîte, et la fibre de carbone pour le cadran, optimisent les performances de la montre. La lunette et la plaque supérieure, nervurées aux angles, renforcent la solidité du boîtier. La carrure évidée sur la tranche allège la structure sans compromettre la solidité de la boîte. Chacune des ouvertures est habillée d'un insert en fibre de carbone.
Boîtier : diamètre XXL 46mm.
Fidèle au concept de modularité qui caractérise la collection INSTRUMENT BR 01, un système ingénieux d'attaches amovibles permet de transformer facilement la montre de poignet en montre de bureau, montre pendentif ou à fixer sur un tableau de bord.
INSTRUMENT BR 01 TOURBILLON
Without deviating from the brand's design principles, the BR 01 TOURBILLON incorporates four complications: a Tourbillon, a Precision Indicator, a Regulator and a Power Reserve Indicator.
With its carbon fibre bridges and mainplates and black carbon finish, the black gold finish Tourbillon's grande complication mechanism performs with perfect accuracy.
The Trust Index indicates the accuracy of the movement in accordance with the tension on the barrels.
The Regulator features an hour counter and a large minute hand.
The Bell & Ross designers preferred to bring the minutes to the forefront to make the watch that much easier to read.
120-hour Power Reserve Indicator.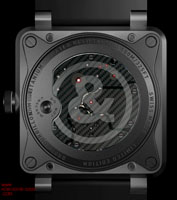 The carbon fibre dial and the case, which is made out of ultra light, DLC-coated (Diamond Like Carbon) titanium at 4 000 Vickers HV, optimize the watch's performance.
The bezel and the upper plate's angled ribs increase the robustness of the case. The middle-case hollowed out of the rim lightens the structure without compromising the solidity of the case.
Case : 46mm XXL diameter.
The Tourbillon also features the modular concept central to the BR 01 INSTRUMENT collection. This ingenious system of removable fasteners allows the watch to be converted into a desk clock, clock pendant or dashboard ornament.