MOSER-PERPETUAL 1
Les maîtres horlogers de Moser ont entièrement repensé le calendrier perpétuel qui tient compte de la durée variable des mois de l'année. C'est la première fois que cette complication classique est intégrée dans un cadran sobre, discret et élégant. Ainsi, dans la MOSER-PERPETUAL 1, l'affichage de la date se fait de façon tout à fait classique, sous forme de chiffre dans une grande fenêtre de cadran à 3 heures.
Le calendrier perpétuel de Moser est le seul au monde à posséder un affichage «flash calen-dar». Autrement dit, la date de la montre saute directement d'une fin de mois – sans position intermédiaire – au début du mois suivant. Pendant la phase de changement, par exemple du 28 février au 1er mars, aucune date non valable n'est visible: après le «28», la fenêtre du cadran affiche directement le «1».
Le calendrier perpétuel peut bien évidemment être ajusté en avant ou en arrière. La sélection du mois se fait moyennant une petite aiguille centrale pointant sur l'index des heures.
Au dos du mouvement HMC341 se trouve l'indication des années bissextiles, réglable au moyen d'un axe à poussoir.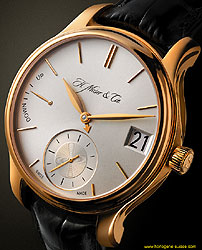 Lorsqu'un mouvement doit être nettoyé dans le cadre de son entretien afin d'éliminer les tra-ces d'usure dues au frottement, il faut démonter toutes les pièces, les laver, les rassembler et les huiler. Cela s'applique également à des pièces telles que l'échappement qu'il faut ensuite réguler à nouveau: un processus délicat qui prend surtout beaucoup de temps. Moser a égale-ment trouvé une solution innovante à ce problème: pour la toute première fois dans une mon-tre-bracelet, tout le dispositif de l'échappement est monté sur une platine séparée et est relié au reste du mouvement uniquement par la roue d'ancre. De cette manière, l'ensemble du mé-canisme peut être substitué en ne détachant que deux vis. Au moment d'une révision, il est démonté et remplacé en échange standard. Les spécialistes de Moser nettoient alors le méca-nisme et procèdent à son réglage. La durée de révision d'une montre Moser s'en trouve consi-dérablement réduite et la régulation peut être nettement plus précise.
MAYU
Esthétique résolument classique, épaisseur de 9,3 mm avec la rare grande seconde des montres de gousset.
Une réserve de marche de 80 heures lui permet de fonctionner pendant plus de trois jours sans être remontée. Le module d'échappement interchangeable, disponible pour la première fois chez Moser afin d'améliorer la durabilité et la facilité d'entretien, constitue une grande exclusivité.
En première mondiale, ce modèle est doté d'une roue d'échappement et d'une ancre en or massif aux surfaces de fonction optimisées.
Le CALIBRE MOSER HMC321 est un mouvement à remontage manuel de 32 mm de diamètre pourvu de la denture Moser sur tous les rouages.
De véritables roues coniques dans le système de remontoir permettent un fonctionnement doux et réduisent l'usure, constituant ainsi une rareté mondiale pour une montre-bracelet. La disposition de la seconde et de la petite moyenne sur un pont commun est classique chez Moser. Des angles arrondis et polis, des platines et des ponts guillochés, mais aussi la gravure des bandes Moser soulignent la préciosité de ce mouvement.
Boîte en trois parties, à choix en or jaune, blanc ou platine, avec verre saphir discrètement bombé et fond transparent en verre saphir, bracelet en cuir croco, fermoir en or ou platine massif avec lo-go Moser gravé au burin.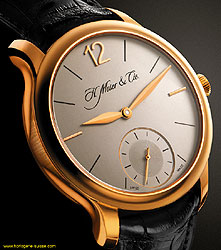 A decidedly classic design, only 9.3 mm thick, with the rare, large pocket watch seconds hand.
The power reserve of 80 hours ensures that the watch will continue to run for more than three days even without winding. The interchangeable escapement module for longevity and ease of servicing, available for the first time from Moser, offers high exclusivity. The design of the escape wheel and pallets in hardened solid gold with functionally optimized surfaces is also a world-first.
The MOSER MOVEMENT Cal. HMC321 is a hand-wound movement with a diameter of 32 mm and incorporates the Moser tooth system in the whole of the wheel train. The use of true bevel wheels in the winding system ensures smooth running and counteracts wear – a worldwide rarity in wristwatches.
Also typical of Moser is the arrangement of the fourth wheel and third wheel beneath a common bridge. Chamfered and polished edges, a sun pattern finish on the plate und bridges, and Moser ground stripes, also emphasize the intrinsic value of this movement.
Three-part case, available in yellow gold, rose gold, white gold or platinum, with a discreetly convex sapphire glass and a see-through sapphire back, crocodile leather strap and solid gold or platinum clasp
MOSER-PERPETUAL 1
The MOSER-PERPETUAL 1 is a watch with a perpetual calendar, the likes of which the world has never previously seen. The unique arrangement of the displays imparts an elegant sense of clarity in spite of the complicated internal workings. The first watch of the new generation is equipped with the Moser dual spring barrel and has a power reserve of at least seven days. The interchangeable escapement module for enhanced ease of servicing is used here for the first time by Moser. The design of the escape wheel and pallets in solid gold is also an exclusive and unique feature. The MOSER MOVEMENT Cal. HMC341 is a hand-wound movement with a perpetual calendar capable of adjustment both forwards and backwards. The "Flash Calendar" display, which jumps directly from the end of the current month to the first day of the following month without indicating any invalid days, is the subject of a patent application. The perpetual calendar is only discernable on the dial as the large date and the very restrained design of the hand for the month, including the twelve hour indices. The date can be adjusted with the patented "Double Pull Crown" mechanism, which ensures reliable setting of the crown to the correct position. Three-part, round designer case in rose gold, white gold or platinum with a discreetly convex sapphire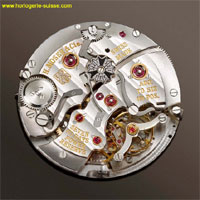 The module itself, which represents the aspirations of the Moser watchmakers to enable the time spent in service to be reduced, has also met with a very positive reaction. It has, in fact, been found that a customer whose watch is being overhauled can get his watch back much earlier if the escapement module is replaced by an already cleaned and adjusted unit, and if the work on the dirty escapement assembly can then be undertaken by a second watchmaker at his own pace, without feeling pressurized by the customer. It makes absolutely no difference whether this work is carried out locally in the service workshop of the watchmaker or in Moser's own workshops. Both are possible and envisaged without any problem.
The module as a whole is replaced by removing only two screws. The blocking lever present in all Moser movements thus prevents the spring barrel from running down by blocking the seconds wheel. This also provides additional security in the event that the need to relax the tension in the spring barrel beforehand is overlooked. As a result, the exchange of the escapement module proceeds so straightforwardly that a customer who prefers to get his "own" escapement module back after cleaning also does not pose any problem. He simply continues to wear his watch with a module provided by the watchmaker, which can be exchanged at a later date.