Milus HERIOS secondes Tri-Retrograde squelette
La force conceptuelle et mécanique de l'HERIOS TriRetrograde Seconds Skeleton est démontrée par une fonction raffinée et fascinante, la marche rétrograde des aiguilles de secondes.
Le rythme exact des aiguilles de secondes sautantes est donné par un mouvement mécanique suisse de haute qualité: une exécution spéciale et, exclusive à remontage automatique, avec fonction de secondes rétrogrades en 3 secteurs de 20 secondes chacun.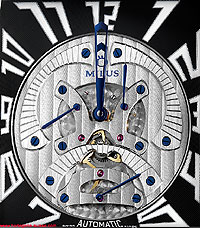 Situé à 6 heures sur le cadran, la première aiguille de seconde effectue un parcours de 20 secondes et revient à son point de départ à la vitesse d'un éclair; consécutivement, la deuxiéme située vers 10 heures puis celle située vers 2 heures prennent le relais effectuant un parcours similair de 20 secondes chacune.
Ce jeu d'alternance se répète inlassablement et procure une impression générale d'un ballet magique d'aiguilles de secondes.
Des vis en acier bleui servent à fixer ces compteurs remarquables et donnent, avec les aiguilles bleuies, un accent raffiné au fond couleur argent.
La mécanique la plus fine dévoile ses secrets: le cadran de l' HERIOS TriRetrograde Seconds Skeleton présente une précision unique en son genre et permet un regard privilégié sur la vie intérieure du mouvement automatique grâce à l'ouverture centrale.
Ce garde-temps démontre ses qualités côté verso également: grâce à la fenêtre ronde en verre saphir convexe, le mouvement peut être observé dans le fond de boîte vissé.
Un bracelet en cuir d'alligator noir extrafin et confortable parachève l'image élégante de la montre.
HERIOS Automatique
Milus HERIOS Automatique or rose 18 carats
Mouvement: mouvement mécanique de qualité suisse - automatique
Boîtier: or rose 18 carats verre saphir bombé fond vissé, avec culot de visualisation rond, en verre saphir à facettes
Fonctions: heures, minutes, et petite seconde à 6 heures Étanchéité: jusqu'à 30 m
Cadran: cadran noir et bombé, avec zone rectangulaire de couleur anthracite, portant des chiffres arabes de couleur or rosé (appliques)
Bracelet: cuir alligator, en noir
Fermoir: fermoir à ardillon, or rose 18 carats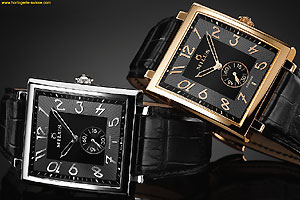 Milus HERIOS Automatic 18 K pink gold
Movement: Mechanical Swiss high-quality movement - automatic
Case: 18-carat pink gold Curved sapphire crystal; Screwed back with round, bevelled sapphire crystal transparent back
Functions: Hours, minutes, small seconds hand at 6 o'clock
Water-resistant: to 30 m
Watch face: Black curved face with square anthracite coloured zone with pink-gold coloured Arabic numerals (appliqués)
Strap: Alligator leather in black
Clasp: Buckle in 18-carat pink gold
Milus HERIOS TriRetrograde Seconds
Skeleton
The HERIOS TriRetrograde Seconds Skeleton shows its strengths in design and technology with the sophisticated and fascinating retrograde seconds display.
The exact rhythm of the counting then jumping seconds hands is given by a Swiss quality mechanical movement in an exclusive special version with automatic winding and with retrograde seconds function in three sectors of 20 seconds each.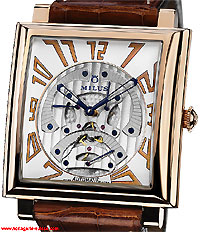 Starting at 6 o'clock, the first hand jumps instantly back to the right to its starting position after 20 seconds. Going clockwise, the next seconds hand at 10 o'clock followed by the third at 2 o'clock take over the same task. This alternation tirelessly repeats itself, giving the overall impression of a magic dance performed by the seconds hands.
Blued steel screws fix the distinctive seconds-display sectors in place and, together with the blued steel hands, give fine accentuation to the silver-coloured background. Superlative technology lays bare its secrets: the dial of the HERIOS TriRetrograde Seconds Skeleton displays the unique precision of the watch, allowing an exclusive look at the inner life of the automatic movement through the opening at its centre.
Lovers of consummate craftsmanship will be fascinated. And this timepiece shows off its talents at the back of the case too, in that the round convex sapphire crystal window gives a view of the movement.
A comfortable strap in finest black alligator leather completes the elegant appearance of the watch.



ZETIOS Automatique
La nouvelle ligne de montres ZETIOS représente un hommage au passé riche de tradition de la manufacture suisse d'horlogerie Milus.
Sobre, d'un style chic et racé: la forme classique de cette montre messieurs rappelle le design de l'époque où fut fondée la marque de montres Milus, en 1919.
Mouvement: Mouvement mécanique suisse de haute qualité, automatique.
Boîtier: Acier inoxydable poli, diamètre 42 mm.
Verre saphir bombé.
Fond de boîte poli, vissé au moyen de 6 vis, avec fenêtre ronde en verre saphir.
Couronne protégée, avec gravure en relief du logo Milus. Variante de boîtier en or rouge 18 carats 5N.
Fonctions: Petite seconde à 6 heures, grand calendrier à 12 heures.
Étanchéité: Étanche jusqu'à 30 m.
Cadran: Revêtement galvanisé, au centre "Clous de Paris" en noir. Compteur de secondes à 6 heures, noir azuré. Zone argentée avec appliques de chiffres arabes argentés, zone extérieure en noir avec index des minutes, index horaires (toutes les 5 minutes) recouvertes de SuperLuminova blanc.
Aiguilles: Aiguilles des heures et des minutes partiellement recouvertes de SuperLuminova blanc. Bracelet: Cuir d'alligator en noir avec attaches de bracelet spéciales pour un confort optimal.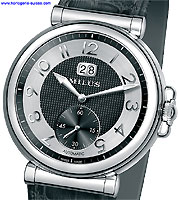 Fermoir: Type boucle de ceinture en acier inoxydable.
The new watch line ZETIOS pays homage to the tradition-rich past of the Swiss watch firm Milus. The classical form of this men's watch – unpretentious and stylishly elegant – is reminiscent of design at the time of the foundation of the Milus watch brand in 1919.
Movement: Mechanical Swiss quality automatic movement. Case: Polished stainless steel, diameter 42 mm. Curved sapphire crystal. Polished case screwed down with 6 screws and with round sapphire crystal viewing window. Protected crown with embossed Milus logo.
Case variation in 18-carat red gold 5N.
Functions: Small seconds dial at 6 o'clock, large date at 12 o'clock.
Water-resistance: To 30 m (100 feet).
Dial: Electroplated, black 'Clous de Paris' design at centre. Black, snailed seconds display at 6 o'clock. Silver-coloured area with applied silver-coloured Arabic numerals. Black outer area with minutes index points, hour (5-minute) index points coated with white SuperLuminova. White Milus logo. Applied date window. Hands: Hours and minutes hands partially coated with white SuperLuminova.
Strap: Alligator leather in black with special strap connectors for smooth wearer-comfort.
Clasp: Stainless steel buckle clasp. (According to variation also in 18-carat red gold 5N)