ASSIOMA COMPLICATIONS
Bulgari enrichit sa precieuse collection Assioma de nouvelles références Complications en édition limitée.
Ces précieuses montres à complications marie harmonieusement le savoir-faire et l'expertise de l'horlogerie suisse au style et aux formes épurées caractéristiques de Bulgari.
Deux nouvelles versions: Multi Complication et Petite Complication.
La première montre Bulgari Multi Complication, au boîtier incurvé en platine, sera disponible en édition limitée à 25 exemplaires uniquement. La montre combine les fonctions suivantes: Tourbillon automatique, calendrier perpétuel et double fuseau horaire. Le calibre BVL 416 est la première Multi Complication entièrement conçue, fabriquée et assemblée par Bulgari, à l'origine de ce précieux mouvement composé de 416 éléments.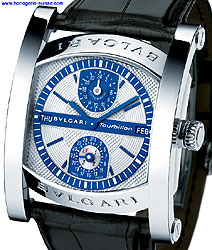 La montre Petite Complication, dotée d'un mouvement mécanique à Heure Rétrograde, est disponible en trois versions: or rose, or jaune et or blanc. Le calibre BVL 261, avec affichage AM/PM, se compose de 261 éléments entièrement assemblés et finis manuellement.
Sur la tranche du boîtier est gravé le numéro de la série limitée.
La production des nouvelles montres Assioma Complications et la conception de leurs mouvements a nécessité deux mois de travail, soit exactement 7 360 heures de recherche, 15 000 heures de réalisation et 3 360 heures de conception.Toutes les montres Bulgari sont assemblées dans les ateliers du Groupe Bulgari en Suisse.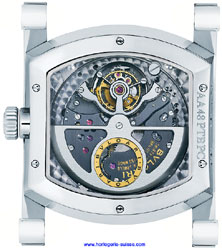 Bulgari extends its precious Assioma Collection by introducing the new Assioma Complications references in limited editions. Precious complicated watches have been created thanks to the Swiss watch-making expertise, whilst maintaining coherence to Bulgari's famous design and purity of shapes.
Two new versions: the Multi Complication and the Petite Complication.
The first Bulgari Multi Complication, with a refined platinum curved case will be exclusively available in 25 limited edition pieces featuring an exclusive blend of complications. Automatic Tourbillon, Perpetuai Calendar and GMT 2 time zone functions have been combined together. The calibre BVL 416 is the first Multi Complication entirely developed, manufactured and assembled by Bulgari, from which the precious 416 components movement stems.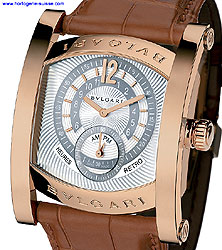 The Petite Complication, available in pink gold, yellow gold and white gold with the limited edition number engraved on the side of each case, features a mechanical movement with Heure Rétrograde. The calibre BVL 261 with AM/PM indicator consists of 261 components and is entirely handassembled and hand-finished. The precise finishing of the sophisticated dials brings enriched quality to the pieces and reaffirms Bulgari's tradition toward the attention to detail. A three-blade déployante buckie with a Bulgari logo engraving enhances the exquisite alligator strap.
Producing the new Assioma Complications watches and developing their movements demands two entire months of work which entails exactly 7.360 hours of research, 15.000 hours of manufacture and 3.360 hours of designing. The original architecture and exceptional style combined to the highest of Swiss manufacturing ability, contributes to the creation of technically sophisticated watches. They are watch-making masterpieces with strong personalities in which tradition and innovation represent the key elements. Bulgari combines a refined yet cutting edge design to sophisticated mechanisms, produced and controlled according to the strict and rigorous standards of Swiss certification, to guarantee high quality.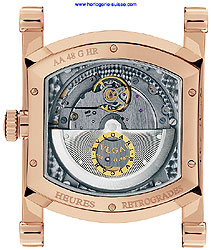 All Bulgari watches are made in the Bulgari Group atelier in Switzerland.
DIAGONO TITANIUM AND ALUMINIUM
Characterized by the bold use of innovative materials, the Diagono Titanium and Aluminium Watch Collections feature a new enlarged size, the 44mm, which conveys further the prestige of the chronograph and the hour-minute-seconds versions.
Diagono Titanium - The use of titanium, a strong and resistant yet extremely light metal has led this watch to become renowned worldwide. ln line with Bulgari's commitment for continuous research on innovative mate rial combinations, this sophisticated and daring watch expresses a distinct personality when worn. The Bulgari logo engraved on the bezel of the titanium case draws a stronger visual impact due to the particular nature of this alloy.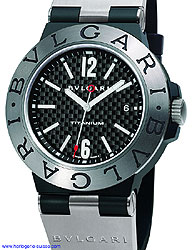 The material combinations and unusual colours used for the Diagono Aluminium render this collection unmistakable. The case and rubber bracelet have aluminium links to emphasize the sporting and dynamic style of this strongly contemporary line. The diagonal design of the bezel featuring the double logo characterizes the extreme functionality of the line.
The timepiece is equipped with an automatic movement and a 42-hour power reserve especially elaborated for Bulgari.
The collection is enriched with four Diagono Aluminium references and two Diagono Titanium references in a 44mm size, featuring a chronograph and an hour-minute-seconds version.

Caractérisée par l'emploi audacieux de matériaux innovants, la collection de montres Diagono Titanium et Aluminium propose un nouveau boîtier de 44 mm, qui rehausse encore le prestige des versions chronographe et heure-minute-secondes.
Diagono Titanium - L'utilisation du titane, métal à la fois robuste, résistant et extrêmement léger, a conféré à cette montre une réputation mondiale.
Toujours à la recherche de nouvelles combinaisons de matériaux, Bulgari a créé cette montre sophistiquée et audacieuse, qui exprime toute sa personnalité au poignet de celui qui la porte. L'effet visuel du logo Bulgari gravé sur la lunette du boîtier en titane est renforcé par la nature particulière de ce métal.
Le choix des matériaux et l'originalité des couleurs font de Diagono Aluminium une collection véritablement unique.
Les attaches en aluminium du boîtier et les maillons en aluminium du bracelet en caoutchouc accentuent le style sportif et dynamique de cette collection extrêmement contemporaine.
La ligne oblique de la lunette frappée du double logo BulgarieBulgari met en valeur l'extrême fonctionnalité de la collection.
Cette montre est équipée d'un mouvement automatique avec réserve de marche de 42 heures, spécialement conçu pour Bulgari.
La collection s'enrichit de quatre références Diagono Aluminium et de deux références Diagono Titanium grand format (44 mm), en versions chronographe et heure-minute-secondes.
LA NOUVELLE MONTRE BVLGARi-BVLGARI. EVOLUTION D'UN CLASSIQUE.
Les horlogers de Bulgari Time rendent hommage à la montre icône Bulgari-Bulgari en développant de nouvelles versions: parmi elles, des Grandes Complications, et notamment le modèle Tourbillon, véritable chef-d'œuvre de l'horlogerie suisse, fruit de plus de 500 heures de travail.
Ces modèles sont entièrement conçus par le Groupe Bulgari. Mais aussi des Petites Complications, comme la nouvelle Bulgari-Bulgari 41 réserve de marche avec son mouvement ultra-plat, lancée cette année.
Grâce à son nouveau boîtier incurvé de 42mm, le nouveau modèle masculin marie le savoir-faire horloger traditionnel au constant désir d'innovation si caractéristique de la maison Bulgari.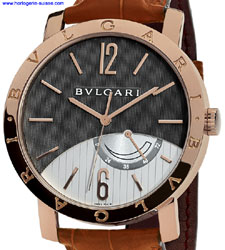 The Bulgari Time watch making specialists celebrate the BulgarioBulgari watch icon by developing new versions.
The Grandes Complications, among which the Tourbillon, a real Swiss masterpiece of watch making, taking more than 500 hours work.
They are entirely developed by the Bulgari Group.
The Petites Complications, with an ultra-flat manufactured movement of the "BulgarioBulgari 41 réserve de marche". Thanks to the new 42mm size curved case, the new men's model combines the traditional manufacturing ability of watch-making specialists to Bulgari's historical awareness for innovation.